Road Trip, Part One
Go west young man,
Haven't you been told?
California's full of whiskey, women, and gold.
-Toby Keith,
"Should've Been A Cowboy"
As promised, here's a road trip recap. (Plus, it buys me time to actually do some knitting to blog about.) Part One today, Part Two tomorrow, and then we're moving on, literally and figuritively.
I believe I left you somewhere in
Mississippi
. From Jackson we hit our southern point and basically just headed west. (You can feel sorry for Billy now, since he had to listen to that Toby Keith song many many times. I think he was really wishing he and my sister hadn't given me that iPod . . .) At a perfect stopping point, we met up with
Knit'n'Lit Jenn
and her husband in Fort Worth, TX.
Fun! Fun! Fun! Jenn beat me to
the blogging
by an embarrassing week. What can I say? West Texas is huge.
They took us on a fabulous tour of Ft. Worth. I knew something about the city right away when Jenn said, "I'll have to get my husband to come, since I've ONLY been here 9 years." ONLY? Let's just say that we got the million-dollar tour. And Ft. Worth is a beautiful city. East meets West right there.
The socks got to visit the Stockyards where they parade cattle every day (Jenn has much better photos of this, btw), and then we had great Mexican food,* visited the yarn store, and spent a little time blogging from their wired (and book-filled) house. Bloggers understand. The best part? We talked about knitting a little bit, but mostly about art, culture, travel, books, the price of eggs in Alaska, really all sorts of stuff.
The internet. Bringing people together.
It does make me wish we lived a little closer, though. Go tell Jenn to come visit in San Diego.
To top off a really fabulous day, Jenn sent us on the road with some lovely gifts. Some wonderful blue KnitPicks Shadow - lace yarn, of course - for me (although I would have happily shared if Billy wanted to), and for him, some travel games and a big batch of homemade chocolate chip cookies. The cookies were, um, unavailable for comment at the time this photo was taken, but here's the rest: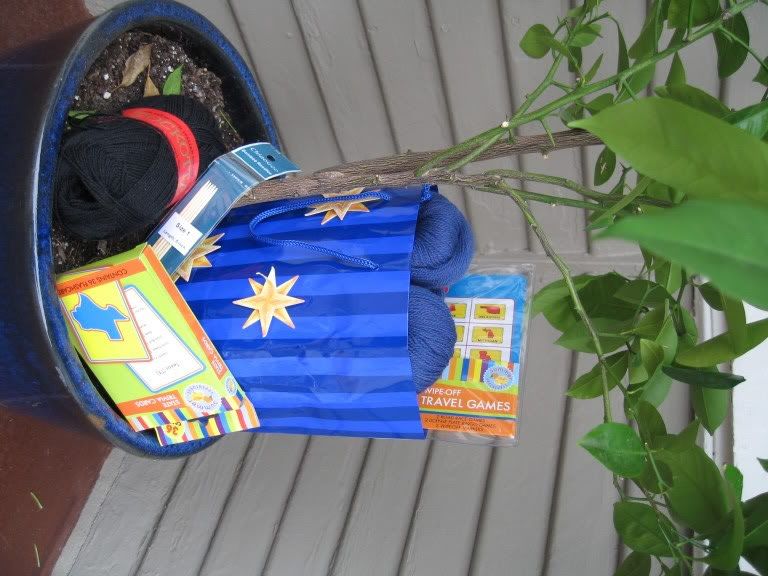 Isn't that fabulously thoughtful, and just plain fabulous?
That boring black Sockotta and the 5" bamboo dpns represent my haul from Jenn's local yarn store. 5" bamboo dpns in US 1 - these should solve the conundrum that Brittany Birch needles smaller than size US 2 break too easily and all the other bamboo needles I have are 6". And boring, basic black? I'm wearing a Navy uniform every day, folks, and I've gotten far too accustomed to handknit socks to give them up. We can suffer through the miles of 2x2 rib in plain black together. I'll knit them, you can follow the painful process here.
The things I do for my country . . . or is it my feet?
Tomorrow: We'll pick up in West Texas and finish off the road trip, complete with shawl updates.
*Speaking of Mexican food . . . You've heard of 24-hour coffee/espresso places, 24-hour diners, 24-hour gas stations, etc., right? Well, San Diego has 24-hour Mexican take-out. And they are everywhere. I think I pass four on my way to work. What a great concept.