My Reading List
Continuing to cling to the patterns you know
inhibits your ability to discover what you don't know.
-Eric Allenbaugh
I realized - somewhere in the midst of all the packing and moving - that I own a lot of knitting books that I've never made anything from. Nothing. Nada. Zip. Zilch. Maybe up to 20 or so of my knitting book collection. A lot. And I just packed them, moved them from Providence to Pennsylvania, gave them to movers to bring to San Diego, and unpacked them. That's a lot of work for books I - for whatever reason - never got around to using. That needs to change, but how?
Clearly, I need a plan. A schedule. Call me Type-A, but I like my lists. And since I'm in the middle of planning my yearly schedule, what could be more natural than making a plan and checking my list?
Here's the plan:
Intern year is divided into 13 "months" of 4 weeks each. For each month, I will select and begin a project from one of the books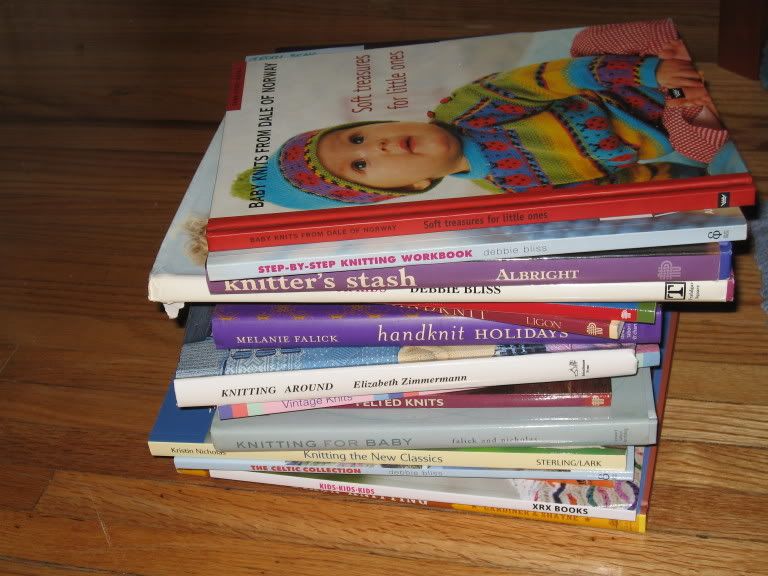 pictured at right. These are great books. With great patterns. What have I been missing? There are 18 books, which gives me a bit of flexibility, and a wide range of projects from sweaters to baby garments to pillows. Bonus points for using stash where possible. Finishing within the month is not essential, as I have no problems with the multiple WIP reality, and this is all about trying new (but old) things. Books that I do not use will face a serious hearing as to whether they can be best served by a continued placement on my bookshelf. New books may enter the rotation, but note that they may displace older and deserving books.
The Bottom Line:
My own personal Knitting-Book-A-Month Club. The books just happen to be books I already own.
Now, in this plan I'm not including magazines, pamphlets, or "reference" books. Reference is defined rather broadly. Kaffe Fasset's Glorious Knits, for example. While I did tag the pepulm shaped poppy jacket (
eBay photo
, only one I could find) late at night -- and I can't decide if it is so out there that it's incredibly wearable or if it's just out there -- this book is really not in my collection for the patterns. And magazines . . . someday I'll organize them. In the interim, watch as my sidebar explodes with new projects. Ribby Cardi? What Ribby Cardi?