I Trekked
The three great elemental sounds in nature are the sound of rain, the sound of wind in a primeval wood, and the sound of outer ocean on a beach. -Henry Beston
In before the end of June . . . for the
Trek Along With Me knitalong
I trekked with my Trekking socks. (That was the idea, wasn't it?)
As part of MyNewCaliforniaLifestyle, I went on my first-ever beach hike (with sock):
Other than the fabulous view, the good hiking, the blessedly cool breeze and cloud cover (seriously - too much sun can get to you), the best part was not getting laughed at when I asked my hiking companion to take this picture: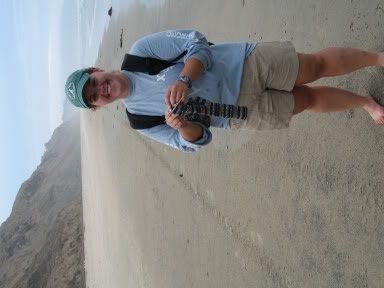 . . . You never know about people you haven't known very long. You may notice that I was barefoot for part of this, but it was still a real hike. We walked about 5 miles from the beach up into the cliffs of
Torrey Pines State Reserve
. We took our shoes off to wade through the incoming tide (parts of this route are "swim only" during high tide, but we made it with only a little bit of water on our shorts), and then put them back on to avoid the pine needles.