Falling
this is a poem about loving
the world and everything in it:
the self, the perpetual muscle,
the passage in and out, the bristling
swing of the sea.
-Mary Oliver

Thanks for all your lovely comments on my NewCaliforniaLifestyleTank - isn't it exciting to have a new FO around here? (And even more exciting that I still have readers. Thanks for bearing with the crazy schedule.) Speaking of knitting summer tanks - San Diego still has the legendarily perfect weather. Nevertheless, there's a part of my soul that knows autumn is coming.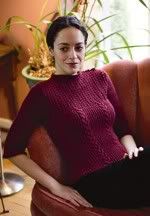 And that part of me still wants to pull out my scarves and thick socks and go on a hayride drinking apple cider. That same part of me wants to start knitting all 'my' winter sweaters and other wooly goodness. In the absence of an actual physical need to knit heavy wool sweaters, I'm going to think about it instead.

Enter the Fall Interweave Knits. Just in the nick of time. I've seen a lot of folks commenting that this was not their favorite issue, or that they didn't think they would make anything out of it. My first impression was quite positive, that there's a lot of good stuff here. Granted, none of it falls into the "Drop Everything and Knit It NOW" category, but, really, new patterns rarely jump ahead in the queue for me. (A notable exception: Winter Folly here. That sweater just threw itself into my hands and said "Knit Me.")
So, with the realization that, no matter how much I like a particular pattern in this issue, I'm probably not making it anytime soon , I sat back, relaxed, and enjoyed my romp through creative, interesting, and (mostly) wearable patterns. (This skirt is a notable exception to the "wearable" concept.)
The Gatsby Girl pullover in Rowan Cashsoft (up left) - classic, stylish, incredibly flattering. And, with it's elbow-length sleeves, it may just be the one sweater I'd consider adding to my San Diego knitting list. There are reasons women used to wear corsets. I'm not advocating we go back to that (or to the WWII days when the Army issued regulation girdles to female servicemembers), but this is one lovely sweater. Then there's Kristin Nicholas' Little Majolica on the right. Aside from the obvious problems with handwashable fabrics for kids and the fact that my color sensibilities differ a great deal from hers, fun to knit, fun to wear. How much fun can you possibly have in a sweater? A lot, by the looks of it.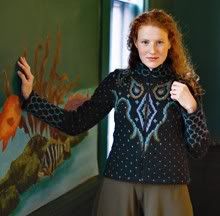 Other winners include this lovely men's sweater that I could actually picture real, live men wearing (a rarity, to be sure), and Kate Gilbert's Silken Spencer. I'm too short for this, but it is tres chic.
Now for the hard part. I just don't know what to make of this Northern Lights Jacket. My first impression was that it is absolutely striking. There's something I find really gorgeous about it. But it's also quite a bold pattern for a little, form-fitting jacket. And does anyone else find it vaguely remniscent of a butterfly? Thoughts? Comments? It is striking, but maybe there's something about it that's just a little bit off? The scale, perhaps?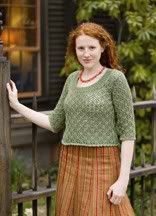 And then I would be remiss if I didn't point out at least one of the less-than-inspiring patterns in the issue. This Glasgow Lace sweater (yes, another moment of sympathy for this poor model who has been noted by others to always get the worse modeling assignments). Lovely lace, lovely yarn, lovely girl. But that is just not the place in the middle she (or any of us, for that matter) should be cut off with a swinging top. Unfortunate all the way around.

I don't subscribe to knitting magazines for the patterns, in the same way that I don't read knitting blogs to find cool yarns/patterns/things to knit. Bonus when I do, but in general I do it to stay involved with the knitting community at large. This particular Interweave makes me happy to be a knitter. Actual knitting optional.