Iron on Tuesday
Wash on Monday
Iron on Tuesday
Mend on Wednesday
Churn on Thursday
Clean on Friday
Bake on Saturday
Rest on Sunday
-Traditional
I am back from my combat medicine course in the wilds of somewhere-outside-of-San Antonio, a great experience that really made me appreciate not only the hard work done by medical personnel on the front lines, but also just how comfortable my bed is. There are photos, which will appear one of these days, but in the meantime I'm busy getting caught up on all the stuff I didn't do during 2 weeks away. . . i.e. errands and chores. Some thoughts on that:
I first encountered that traditional saying above in the immortal works of
Laura Ingalls Wilder.
Did you know that she wrote a housekeeping column for a newspaper in the Ozarks for many years? That would be after she and Manly moved out of the prairie after
The First Four Years
. At any rate, I generally like to think of myself as living a good hundred, hundred and fifty years ago. With modern plumbing and antibiotics, of course. And I'm also a bit of a, ahem, well, scheduled person. I like my routines. So I've adapted a version of the above for my life and times.
Wash on Monday
- laundry
Iron on Tuesday
- all that clean laundry to iron, right?
Mend on Wednesday
- I approach this metaphorically and mend my financial affairs. I pay my bills, take care of paperwork, all that jazz.
Churn on Thursday
- Nope, none of that either. Generally I clean the dry areas of my apartment - living room, bedroom, carpets.
Clean on Friday
- Here's the real cleaning - kitchen and bathroom.
Bake on Saturday
- Not as a chore, but often as a hobby.
Rest on Sunday
- I do, but I also change the sheets on my bed. Something to wash on Monday.
The beauty of a schedule like this is not so that my mother thinks I'm rigid. No, the beauty of it is actually it's flexibility. If I have a really busy Tuesday for some reason, just my ironing is behind. It doesn't throw off anything else, and then I'll do double the ironing next week. The other real joy is that I don't spend my every beautiful sunny Saturday morning in San Diego doing chores, because by then they are all pretty much done.
And this is a post on a knitting blog because . . . after I did laundry last time, I noticed that all but one of my warshcloths were all clean and together. Without going into detail about the subschedules of my laundry (doesn't everyone do that?), let's just rejoice in how well-loved and well-used these warshcloths are.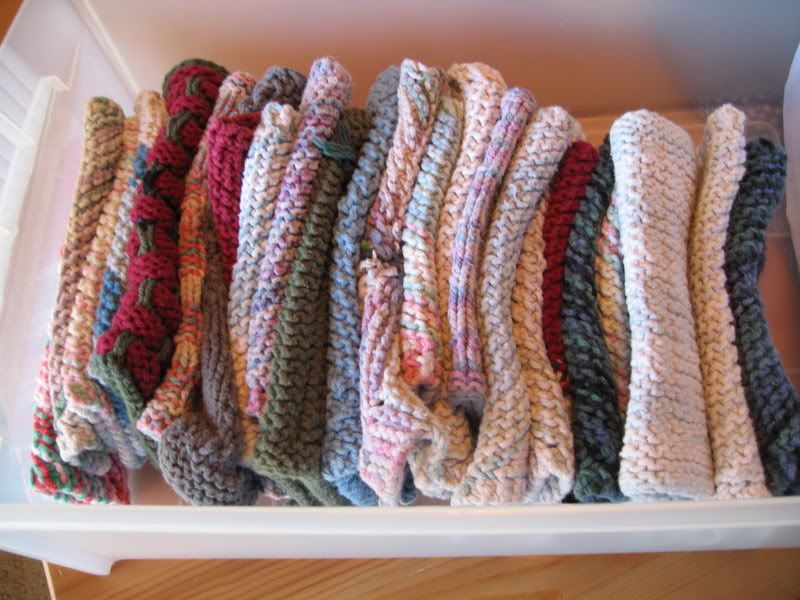 Are you overwhelmed by the effect of all of them together? Check out this one, the first one I ever knit (about 4-5 yrs ago if I recall correctly). It used to be blue and yellow, and now it's basically a bleached out grey.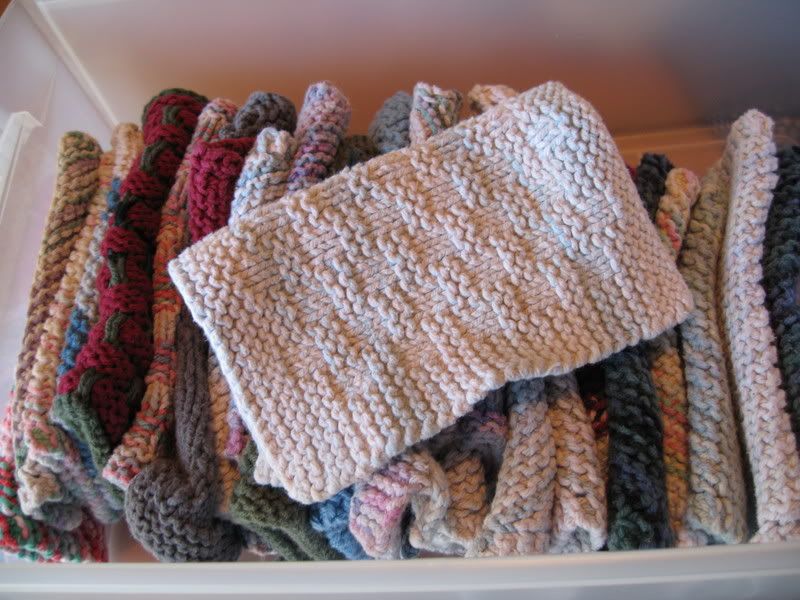 I'm strangely proud of that . . .