Birthday Bliss
God's in his Heaven - All's right with the world.
-"Pippa Passes," Robert Browning
Sometimes the stars just align. Perfectly. And my birthday weekend was just that good. But let's back up a little bit and take a look at the package that kicked it all off.
While
some people
have been incredibly patient about waiting until their birthday to open their
August Birthday Swap
packages, well . . . I'm not one of them. My package came a day early, and I waited about 30 seconds before ripping into it. And what a package!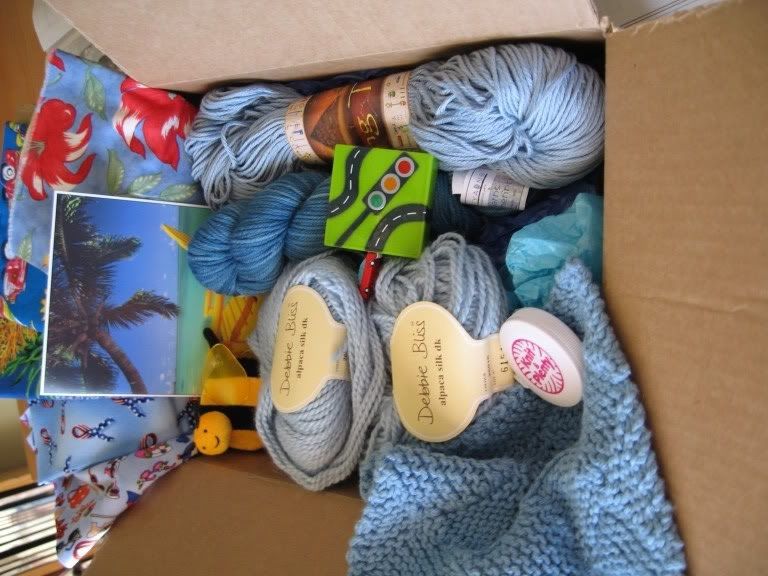 Carrie K
really outdid herself, with - I might add - exactly no help from myself. No questionairre questions, no guidance of any sort, and not even all that much blog posting recently. No matter. She came up with her own themes - blue and beach. Works for me.
What you can kind of see on the right (Photobucket is NOT doing well this am) is a lovely selection of blue and beach themed fabric, some wonderful blue yarn, and three adorable tape measures. The best part? A BLUE garter stitch entrelac dishcloth. Handknit. Not by me. Awesome. Awesome.
Note the Alpaca silk. Note the Artyarns Supermerino. Note the King Tut Egyptian cotton. These are good yarns for a gal in San Diego, let me tell you. (OK, they are good yarns in general. But
especially
for a gal in San Diego.) And do you see the road trip tape measure? With the
red car
handle? And how 'bout that bumblebee one up top?
With a start like that, is it any wonder my birthday weekend was fabulous? Thanks,
Carrie
!