By the Chimney
And the stockings were hung by the chimney with care . . .
-The Night Before Christmas, Clement Clarke Moore
I'm glad you all liked
my
our Christmas decorating. You'll be pleased to know that the beau and I are still on good speaking terms, so long as I don't publish any photos of him crawling under the tree on the blog. Fair enough, I suppose.
Several of you requested a closer look at the stockings, and some even thought that I had knit them. Not quite, but I did make them.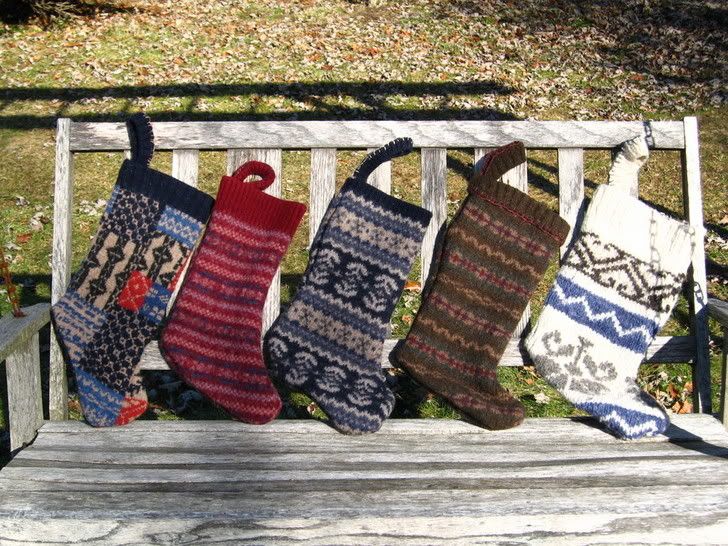 I made these stockings last year shortly after Christmas. (I do most of my Christmas crafting after Christmas, it seems. Beforehand I'm too busy knitting gifts, and afterwards it helps prolong the season for me.) I needed a new stocking, you see, because Santa had put a little too much coal in it. Real coal, not just that overpriced Restoration Hardware stuff. It's a family tradition.*
You probably do not recall that
my original plan
last year had been to knit Christmas stockings for the family. Let's face it - that's a lot of work, especially when they need to be lined, and I was on a stashalong at the time, and, well, I had other things to knit. So I decided it'd be fun to play with felting sweaters, and betook myself to the thrift store for sweaters to felt. I'll save the crafty details for the next post, but I think they came out quite well.
And since I'm now using them in San Diego, isn't it a good thing I didn't put any names on them? Some day I'd love to make the beau and myself gorgeous Fair Isle stockings in real Shetland wool, or maybe some heavily patterned Aran ones, or something. But you didn't really think
I'd knit for him
this year, did you?
*A friend of mine has a theory that there are two types of families in the world: Those who get toothbrushes in their stockings and those who do not. We've always fallen squarely in the toothbrush camp - Who doesn't want to open more presents? And even though I am far from home (and working a 30-hour day from Christmas Eve through noon on Christmas day), I'll still get the family experience - my mom's package full of little stocking stuffers has already arrived . . . and it's overflowing. Perhaps we should hang two stockings each this year?