Getting Stuff Done
The only man who is really free is the one who can turn down
an invitation to dinner without giving an excuse.
-Jules Renard
You'd think that on my one day off this week I'd have more time to blog. You'd expect a long and insightful discussion on heel stitches or cable twists or stash acquisition. Sorry, I'm too busy getting stuff done. Including this: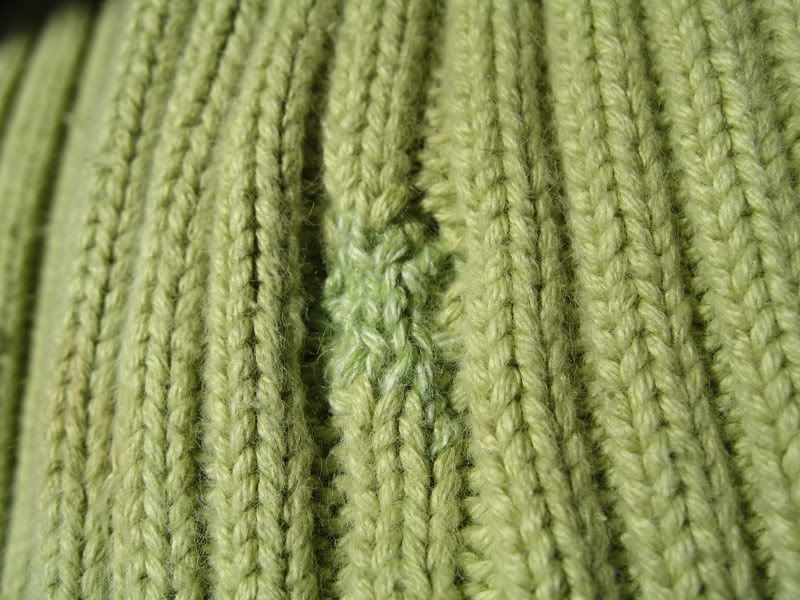 You know I like
darning socks
, but it's much more challenging to darn something commercially made. To start with, you don't have any leftover yarn. To the right you see one of my favorite sweaters, an Ann Taylor cardigan in ribs with a few cable twists to add waist shaping. I wear it all the time, especially since I haven't really made that many cotton sweaters yet. Apparently, I wear it so much I snagged it on something. So I finally sat down with my darning egg, a stripe cut out of the leftovers from my
Summer Stripe Socks
, and got to work. It's better than it looks in that photo, although the colors are pretty dead on. The stitches are more even after washing.
Total time elapsed in darning: 45 min
Total time left in my day off: 9 1/2 hrs