Good Toys
When I bring you colored toys, my child,
I understand why there is such a play of colors on clouds, on water,
and why flowers are painted in tints.
-Rabindranath Tagore
Thanks for all the lovely comments on my great weekend of not knitting. Lest you think that we're all play and no work, let me assure you that both the beau and I are working tonight, running around the hospital like crazy people and occasionally bumping into each other on the stairs. This place is no national park, let me tell you! Since I haven't had time to photograph any of the knitting I've been doing recently, I'll get you all caught up on some recent FOs.
You know how I can't seem to get enough of the little things these days, how I keep getting distracted? And I'm only starting to get into the Christmas spirit (yes, aided in part by the Starbucks holiday cups). Who knows what kind of damage I'll do with Christmas ornaments this year?

Here's the final tally for my Month 4 project. Yes, that would be as I'm starting Month 6. Why do you ask? The limiting factor was actually doing laundry. When you're wearing scrubs every day, and you handwash your socks, there's not a whole lot of laundry that piles up.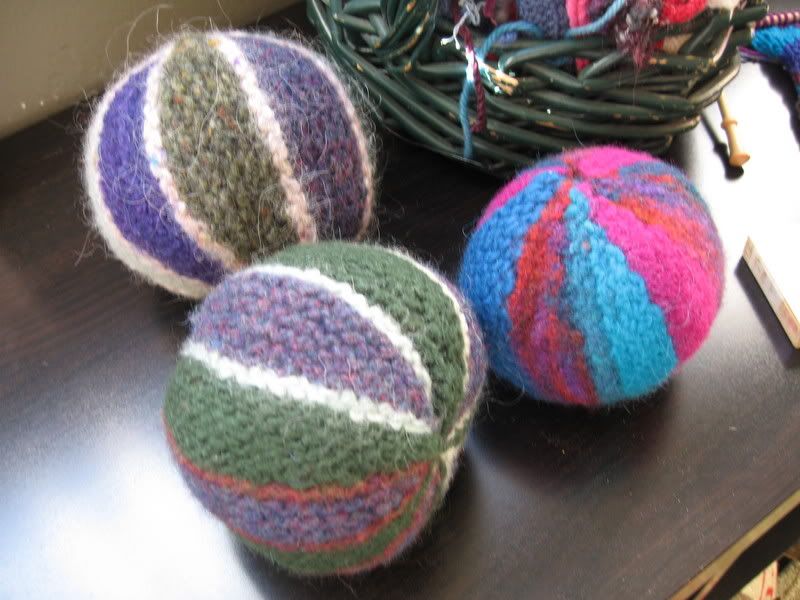 Stuffed Felted Balls
Pattern: from Melanie Falick's Knitting for Baby
Yarn: oddballs of feltable wool, including Gjestal Tweed, Lamb's Pride, Mountain Colors Weaver's Wool, Manos, Lopi, Cascade 220, and a few unidentified yarns
Needles: US 7s
Notes: The green-purple colors are perhaps a little sophisticated for babies. But I think they'll love the pink/blue combo.
Best Thing About This Project: Not only does it use up small feltable oddballs, it's stuffed with all the leftover pieces of yarn that I can't seem to throw away. We're talking the 2-inch pieces you cut off when you're done weaving in ends. Doesn't that make you feel all warm and fuzzy and resourceful?

Speaking of holiday cheer, does any one have any tried-and-true make-ahead and freeze cookie recipies? I have to work all through the holidays, so I'm going to need all the advance help I can get.