A Change of Weather
"It's nothing," returned Mrs Chick.
"It's merely change of weather. We must expect change."
-Charles Dickens, Dombey and Son
Yesterday
you saw the partial results of my experiementation with the completely captivating
Lizard Ridge
pattern from the latest Knitty. And yes, there are a million other things I ought to be working on. The chuppah. Christmas gifts. The Ribby Cardi that is nearing completion and I might be able to actually wear at some point. And so I am faced with a dilemma.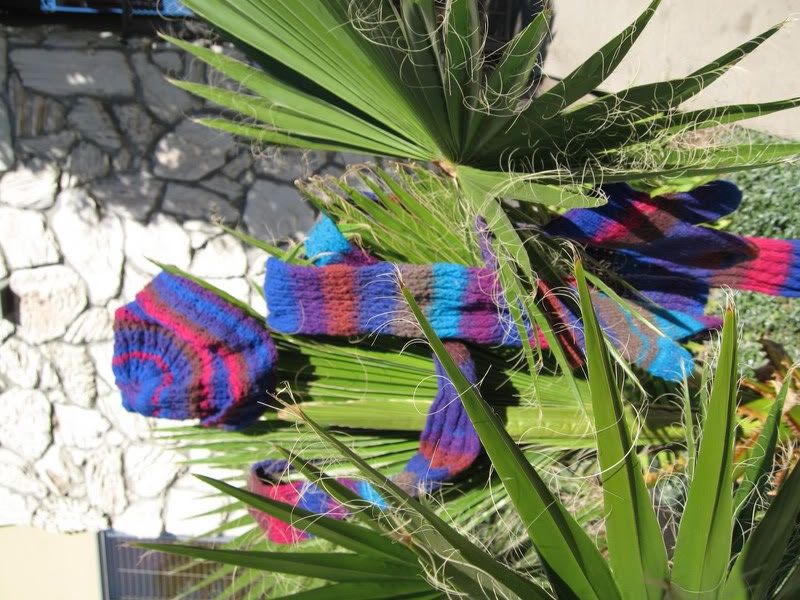 No, the dilemma is not whether or not to knit Lizard Ridge.
Don't judge me unless you've tried it.
Seriously - it's that fun. The dilemma is a yarn dilemma. I started square #1 in Cotton Kureyon that I've had lying around. Oddballs pulled out in
The Grand Stash Reorganization of 2006
. Oddballs leftover from the scarf-hat-mittens set you see on the right.
Now, those of you who have never heard of Cotton Kureyon have never heard of it because it was discontinued, probably before I started knitting. I got these skeins (and I think there are about 8-10) for $2 each in the sale shed at
my favorite yarn store
, not long after I started knitting. It seemed pretty, and like a good idea. I had no idea just how good. But I tried a couple of things, realized that the yarn - while pretty - was probably discontinued because it breaks if you breathe on it, and eventually made a super-long scarf in a lace rib pattern. Just to use it up.
I made a matching hat, which has always been too big, and mittens, which were never warm enough. But I love this scarf. It looks great with this black wool coat I used to have before the lining fell out. It doesn't match my new winter-white wool coat. And I now live in San Diego. (Notice the subtle photo shoot on the palm leaves?) And when I do get the chance to wear a scarf, or a hat, or mittens, I have at least 3 other sets that I'd reach for first.
So, the dilemma . . . The way I see it, I have several options:
Rip out the scarf/hat/mittens and recycle the yarn. This will still be only be enough for about half a full-sized blanket, so this would have to be in conjunction with #2.
Stalk ebay for Cotton Kureyon, pay potentially exorbinant prices, and knit the squares piecemeal as I get the yarn.
Consider the one square a swatch/experiment and make the whole blanket in Kureyon. (I do have some Kureyon oddballs I could use to get started, and a couple of random skeins lying around. This will still require a lot of yarn purchasing.)
Take Amy's suggestion and make a pillow. Each square is about 12" square, so probably I would make an oversized pillow with either 4 squares and a cloth or plain backing or 8 squares. I might be able to get 4 squares out of the oddballs and the hat/mittens. I'd need to break into the scarf to get 8.
Take Elinor's suggestion and make a scarf. Oh, the irony!
These are not necessarily mutually exclusive. And, of course, I'm very very open to other suggestions. Because clearly, this is going to happen. The question is how. And when.
What do you think?