A Single Act
To give pleasure to a single heart by a single act
is better than a thousand heads bowing in prayer.
-Mahatma Gandhi
I've been using all my knitting time to bake and sew (both the
mending
and the seaming you see below).* Thus, no knitting. I am, however, the fortunate recipient of a lovely gift from Lynda of
Knit Together
.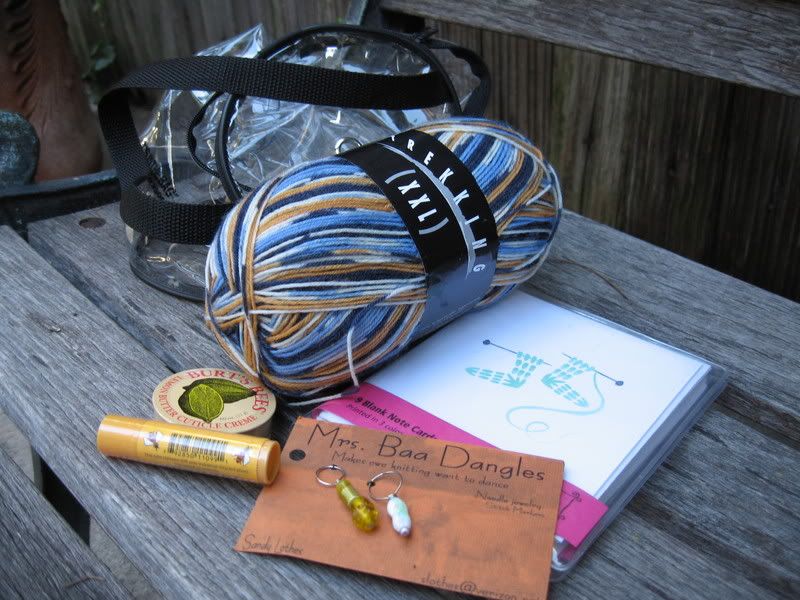 Yes, Lynda of
Count Your Socks
fame. She wanted to recognize
my hundredth pair of socks
. And what a lovely recognition! She sent me - what else - a ball of sock yarn, some nice Trekking XXL. in blues and tans. (Colors I clearly like. See below.) She also included lovely handmade stitch markers, the cutest knitters note paper (with socks on them!), and some Bert's Bees best-ever chapstick and cuticle cream. The best part for this sock knitter? It all came in that plastic case with a gromet in the top - to carry your knitting around, of course!
On a completely unrelated note (except for the color theme as noted above), check out my Ribby Cardi. You may be feeling blindsided by it's advanced appearance. I'm pretty sure
the last blog appearance
was at the bottom ribbing. Just goes to show what a couple of rows here and there while reading medical textbooks can do. And for completely gratuitous reasons, let me show you all my gorgeous reverse stockinette stitch seam: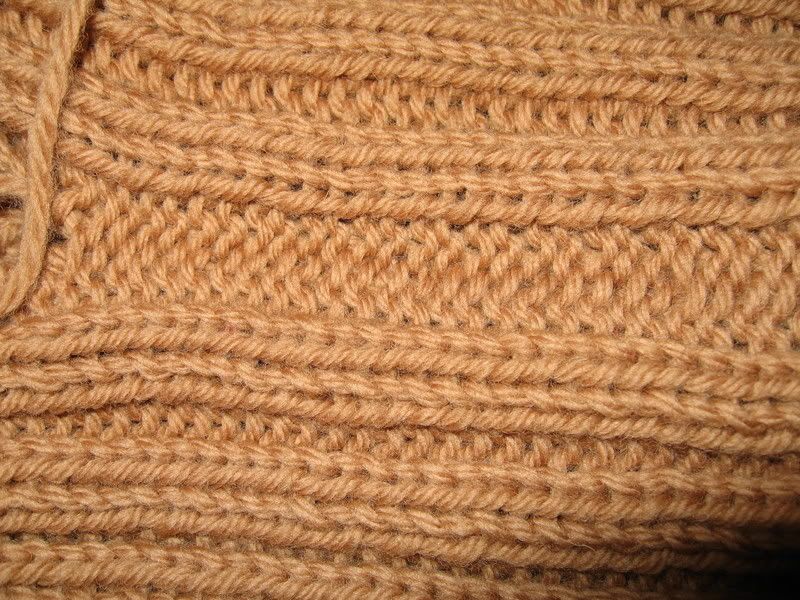 One of these days, I'll get it all together, make a collar and some front bands and sew in the zipper. I do have the zipper. We'll get there . . .
* Speaking of baking, sewing, and all things domestic, here's a cute story: The beau was on the phone with his mom the other day. She was being polite, asking him if we usually ate dinner together, and, if so, if we usually ate out or if one or the other of us cooked. His response? "Yes, Mom, Theresa cooks." On that note, I'd better get to it. Thanksgiving is, um, er, tomorrow and I have a cranberry tart to make.