Like a Baby
People who say they sleep like a baby probably don't have one.
-Leo Burke

Ah, Month 4 of internship. My own personal purgatory of the Navy-mandated Ob-Gyn block for all interns regardless of specialty. While I'm trying not to be a conspiracy theorist, it does seem like every pregnant woman in a 100 mile radius is miserable and coming to my hospital just to make me as miserable as they are. But I digress. Suffice it to say that in the past 6 days I've worked 89 hours, with yet another call coming up on Thursday. And, yes, this is legal even with the 80-hour work week. I have a three day conference at the end of the month that does not count as duty hours, so my 4-week average comes in just under the wire. It's painful.
What makes it less painful is my fun, exciting project-of-the-month, the Felted Balls from Melanie Falick's
Knitting for Baby
: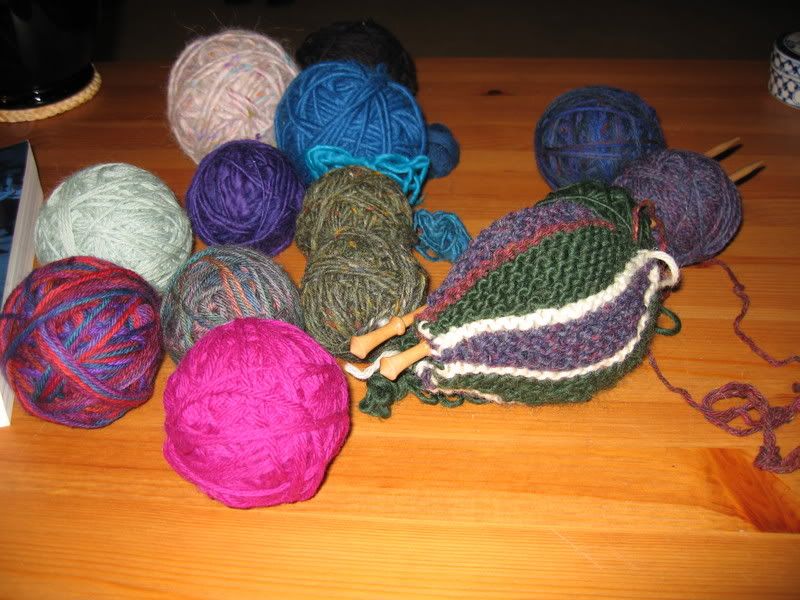 Nothing says fun like garter stitch, oddballs, and felting. Seriously - the cure for stress. No matter how tired I am (very), even I can't mess this up. And if I do? It's getting felted. There's something so incredibly satisfying about using up oddballs. See the stripes above? Some of those pieces are only a couple of yards long. Not only am I using scraps of wool, but after they're felted I'm going to stuff them with scraps of non-feltable yarn. Technically speaking, there's not a lot to talk about here. But it's fun. Maybe it's just that I'm so tired, but these are about all I can knit right now. And did I mention that it's fun?