That Travel Knitting I Was Talking About
The World is a book, and those who do not travel read only a page.
-St. Augustine
I told you that travel was good for knitting.
There's that mish-mash of lace in progress, otherwise known as Frost Flowers and Leaves . .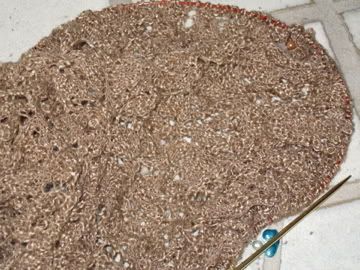 And then a finished pair of Merino Lace Socks for the Christmas basket.
Merino Lace Socks
Pattern: from Interweave's Favorite Socks Book
Yarn: Blueberry sock yarn from Ball and Skein
Needles: US 1 dpns
Notes: No real changes from the pattern, although given the short and stubby legs that run in my family I only did 2 repeats of the lace pattern for the leg instead of 2 1/2.
Best Thing About This Project: Cute. Socks. And look how nice and elegant the lace pattern looks in this darker-than-usual yarn. Surprising, but I went with my gut instinct on this one and it all worked out just fine.
All in all, not bad for a couple of plane trips.
Labels: General Knitting, Lace, Socks