Give Me a Good Blizzard
Heat cannot be separated from fire, or beauty from the Eternal.
-Dante
Some natural disasters are good for knitting. Think blizzards, or even big snowstorms. (Lucky ADD Knitter - she got
snowed into Aspen
!) Even a good thunderstorm, plus or minus a power outage, to make knitting by candlelight romantic and appealing.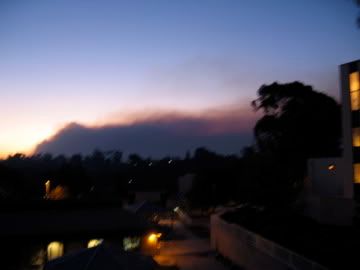 Unfortunately, San Diego has none of those disasters. Instead, we get these wildfires. Acres and acres, many homes, evacuations all over the place, closed roads, and horrible smoke and ash everywhere else. Plus it's 90 degrees with 8 percent humdity, thanks to the Santa Ana winds that are fueling the fires.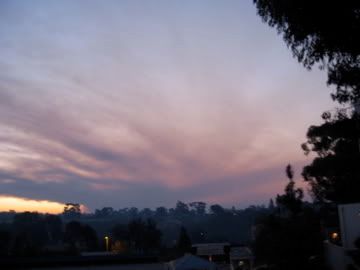 (And, yes, the only time I'm ever out in the daylight is dawn. Why do you ask?)

I have managed to get some knitting done in the interim, but no photos yet. Our hospital got a bunch of evacuees from another hospital, so it's been busy. Since I've been tasked a night shift tomorrow, I'm hoping to get nice daylight photos tomorrow. Hopefully the skies will clear and it'll be sunny and not smokey.

Labels: General Knitting, Life