Scrappy Socks, and Other
The artist is a receptacle for the emotions that come from all over the place:
from the sky, from the earth, from a scrap of paper,
from a passing shape, from a spider's web.
-Pablo Picasso
You want it, you got it. Here's an in-progress photo of the scrappy socks: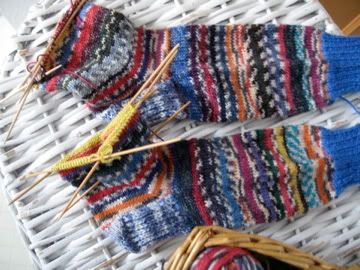 Awesome, eh?
And since it's not all socks all the time around here, I did get around to sewing those buttons on that baby cardigan. October UFO done early!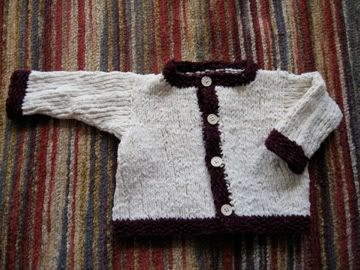 Chenille Baby CardiganPattern:
Chenille Cardigan from Natural Knits for Babies and Moms
Yarn:
Crystal Palace Cotton Chenille - 1 ball of the cream and about 1/2 ball of the maroon
Needles:
US 6
Notes:
I don't love knitting with chenille, but it looks great. I made a couple of mods, the most obvious is the color change for the borders, which I did because I didn't think I'd have enough of the cream to do the whole thing (I wouldn't have it turns out). I also knit the body in the round to the armholes and picked up stitches for the sleeves and knit down. It was annoying to knit the sleeves with the whole sweater hanging off, and I made my rate of decreasing a little too steep, but it was still probably better than seaming with chenille.
Best Thing About This Project:
Done with my October UFO so early!
Labels: Babies, Knitalongs, Socks