The Mystery Revealed
A bumper of good liquor will end a contest
quicker than justice, judge, or vicar.
-Richard Brinsley Sheridan
I didn't mean to be so mysterious . . . I did, in fact, have a project in mind for those random leftover sock yarn pieces. The ones that I most want to use are not the solid color ones (and I was surprised at how many of my scraps are solid colors), or even the varigated ones. It's the self-striping ones. What to do with a small ball of self-striping sock yarn?
As much as I admire the impressive sock yarn blankets out there, self-striping isn't for miters in my opinion, or even log cabins. It's for socks.
So I'm making a sock of leftovers. I have enough of the blue to make the cuff and toe, and a blue-white mix to make the heels. I'm hoping that will tie it all together enough to then me to stripe my self-striping yarns in sections of 8 rows. So far it's looking good, what do you think?
And it's just in time - I won another contest! More sock yarn, this time from
Karen
. I love Trekking.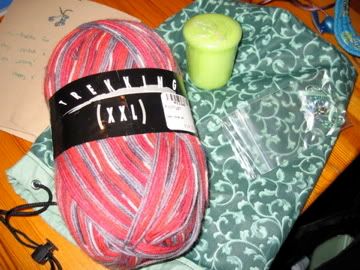 And I'll have so little guilt left after knitting up all those scraps.