The Number We've All Been Waiting For
The whole is more than the sum of its parts.

-Aristotle

I promise and I don't deliver. At least you guys keep me honest! This Socktober I'm going to catch up with my sock list, my sock number, and a photo of all the socks I happen to have in my sock box this very moment (probably about half of the ones I have - the rest were too dirty for blogland). Here's the photo, inspired by
Abigail's Sock Circle
: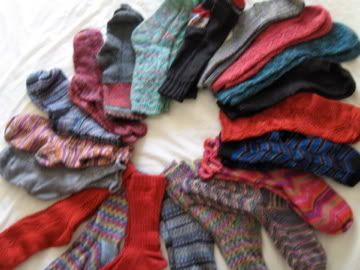 And, since you're just so gosh darn curious -
the number of socks I've knit is 115.
(I still have to blog about pair 115, btw, so don't hold your breath.) My pace has really slowed down recently. I'm sure I could have done the
52 Pair Plunge
while in med school, but now it's more like 1-2 pairs a month. Still, better than nothing, right?
And since we're talking about socks, let me call your attention to two lists previously posted on this blog:
1.
Great Sock Patterns
2.
Great Sock Patterns for Manly Men
Just for your Socktoberfest enjoyment!
And coming soon . . . the Scrappy Socks are flying off the needles. It's just far too entertaining to watch!
Labels: Blogosphere, Socks