The Scrappy Socks Are Here
Leftovers in their less visible form are called memories.
Stored in the refrigerator of the mind and the cupboard of the heart.
-Thomas Fuller
They're here! They're here! The Scrappy Socks are here!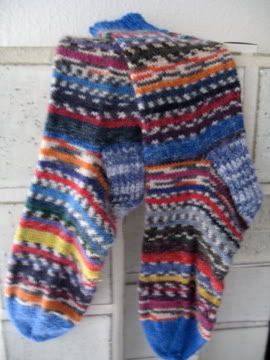 And I adore them. They turned out even better than I expected. They seem to flow from one pattern to the other almost effortlessly. Again, better than I expected.
Scrappy Socks
Pattern:
mine (see below)
Yarn:
mine leftovers (see below)
Needles:
US 1 dpns
Notes:
Um, see below
Best Thing About This Project:
These are my favorite socks by far. More than any of the technically-challenging ones, these I jsut adore. It's all the memories of all the socks. And I'm in love.
So, you want to know what I did? Consider this your Ten Step Pattern (but you do need to already know how to knit socks):
Grab your self-striping sock yarns and pick a solid or two for the cuffs, toes, and heels.

Cast on the right number of stitches for socks for you on needles you choose. (I did 64 sts on US 1s)

Make a cuff in your cuff color (highly recommended to be a solid). I did 20 rows.
Start with a color you have more of than others and knit 8 rows. After 8 rows, stop.

Switch to another color, and knit 8 rows. As you switch colors, weave in the ends as you go. (This is KEY. You really don't want all those ends to weave in.)
Keep alternating colors every 8 rows until it's long enough for the leg. You want to make sure you repeat one or two colors at regular-ish intervals for continuity.
Make a heel. I like heel flaps, but you could easily do short rows. Use a non-striping yarn for this.

Pick back up with the self-striping and knit - changing every 8 rows and making a gusset if needed - until the toe.
Knit a toe in your contrast color.
Make a second sock "the same" as the first. I used the same yarns in the same order, but that meant that the colors were often from different places in the stripe sequence. Looks great, doesn't it?
Reasons I think this worked in this pair:
I didn't use all of my leftovers, I only grabbed about 8 different self-striping ones that somewhat coordinated. In this case, that meant none of the "manly" ones.
Only 8 rows at a time. And always eight rows (except one time when I was running out and I only did 6, but the same on each sock).
I repeated a couple of yarns throughout - the magenta-orange one and the lone Opal skein I had (the one with the longer repeats).

Definitely do solid heels, toes, and cuffs. It ties it all together.

The only downside: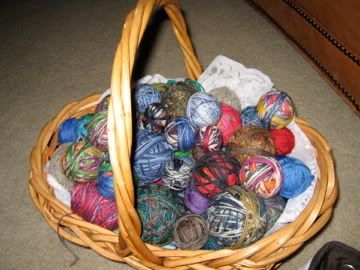 Look how much leftover sock yarn I still have. These socks used much less yarn than I expected, and only rid me entirely of one whole color.