Startitis Strikes Again
Half our life is spent trying to find something to do
with the time we have rushed through life trying to save.

-Will Rogers
It is incredible how many projects a gal can start in a weekend if she gets lucky and doesn't get called in for backup call. (And also if one's husband happens to be away and one is recovering from a bit of a cold and if one gets a little extra day this weekend . . .) Want a little tour?

Some were successful, and some less so.


I was really excited initially about the Vintage Beaded Gloves from Handknit Holidays, until I cast on 90 sts on US1s with sportweight yarn and started a twisted rib. Then I really began to have my doubts. A perusal of Ravelry to see the finished projects clinched it - a definite no-go.
So what would you do with 2 skeins of Blue Sky Alpaca and Silk?
I was equally excited about Meida's Socks from the Interweave Favorite Sock books. . . and I still am after I remembered that I always have to go up 1 needle size on a Nancy Bush pattern.
Good-bye first repeat, hello US2s.
Some other projects have survived the weekend without any major frogging.

The Log Cabin Socks from Handknit Holidays (have I ever told you how much I love this book) have the distinct privilege of being made from the very oldest yarn in my stash (Tahki Dakota). The fact that the variation obscures some of the cabling is so secondary and so not important to it's general warmth, fuzziness, and cabley-goodness.
Speaking of stash, I started Shedir in the KnitPicks Ambrosia leftover from my sister's Rowena. (But not for my sister - that would be too matchy-matchy.) Something tells me that it doesn't have quite the stitch definition of the Calmer, but it's lovely nonetheless.
A pair of Trekking socks. Because, really - who doesn't need some stockinette stitch?
And the very antithesis of plain and boring would be the best-for-last project I started.
These are the Hallard mittens from Folk Mittens in (what else?) Cascade 220. The heathered brown is also one of the older stash yarns I've had, and I bought the cream to go with it. These mittens are just perfectly delightful, and way speedier than I thought. Mitten 1 is now done except for the thumb and I'm on to Mitten 2.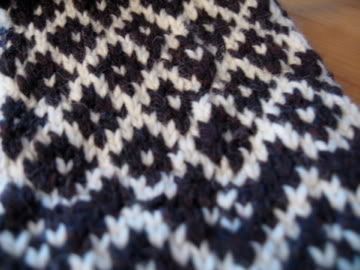 The very best part is a surprise - there are initials on the inside of the cuff.
And if all of those new projects weren't enough, I made some beautiful yarn cakes with more Cascade 220. Future projects coming our way . . .
And all is right with this world of warmth and goodness, isn't it?
Labels: General Knitting, Stash