Some Little Socks
A man travels the world over in search of what he needs
and returns home to find it.
-George Moore
While we're all still basking in the glow of the scrappy socks, I thought I'd share another recent FO, and another favorite thing to do with leftover sock yarn.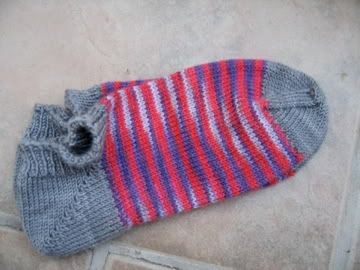 I call these "Little Socks" for obvious reasons, and I can attest that they are the absolute best possible thing to wear inside your clogs. (You do have Danskos, right?)
Little Socks
Pattern:
mine (ish) - basically these are top-down short-row heel socks (
Colleen
, are you falling over yet?) with a short cuff - 10 rows of 1x1 ribbing
Yarn:
leftovers. Here, Artyarns Ultramerino in gunmetal gray for the heel and toe, and Lorna's Laces, colorway unknown, for the body.
Needles:
US1 dpns
Notes:
This is the one case where I think a short-row heel really is warranted. Something about the way it fits in the shoes.
Best Thing About This Project:
I don't have a photo, but I can assure you that they look awesome with my new red clogs.
So the real question remains . . . If I have all these great uses for leftover sock yarn, why do I still have so much?
Herald, ye, the dangers of knitting 117 pairs of socks.