Leaves in My Backyard
It was one of those perfect English autumnal days which occur more frequently in memory than in life.
-P.D. James
Home for fall - pumpkins, leaves, and the general change of weather on the east coast. I love it. (And I really miss it.)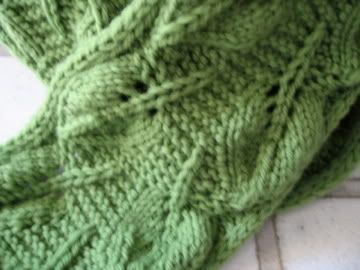 So while I'm hanging out with all the family, delivering baby gifts, attending my wedding shower, and just generally enjoying this all, we can all admire the finally blocked September UFO.
Backyard Leaves Scarf
Pattern: Backyard Leaves Scarf from Scarf Style
Yarn: KnitPicks Merino Style in Asparagus (3 skeins)
Needles: US 7 Brittany Birch straights (oh, how I love thee)
Notes: This was, like most scarf projects, both fun and tedious. The lace pattern is interesting, but I never could memorize it, and it does seem to grow. But it's still a scarf. And still long.
Best Thing About This Project: Finally getting around to knitting it after having the yarn for 2 years.
Labels: Scarves