Socks on the Town
California is a fine place to live - if you happen to be an orange.
-Fred Allen
Continuing along our theme, here's one of the best things about living in San Diego: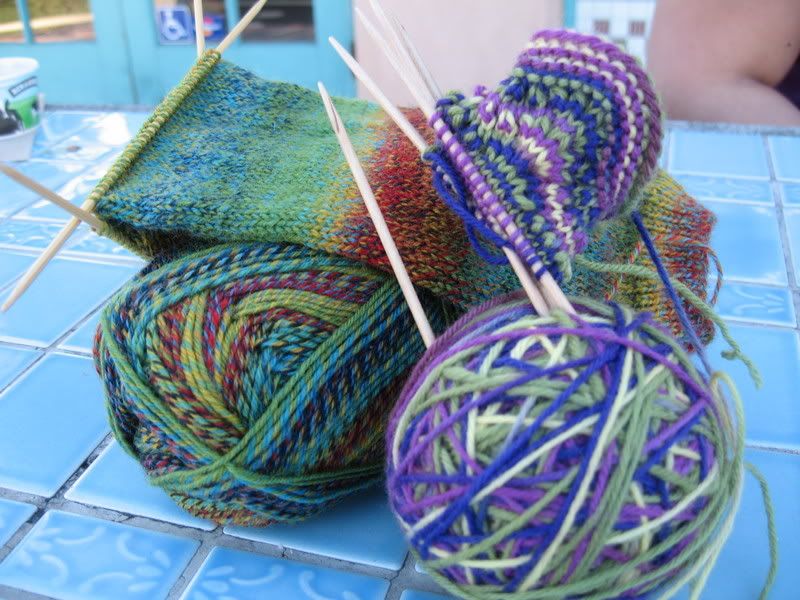 These are no just any two pairs of socks. Oh, no. This is a meeting of two socks never before seen on their respective blogs.
Nova
, everyone's favorite
Archivist on the Edge
, was visiting San Diego. (It turns out that people love to visit San Diego.) And we realized that our new socks just really needed to meet. The socks wanted to go yarn shopping, but the nearest yarn shop was tragically closed on a Monday. So they settled for ice cream. Isn't it fun that other people take their socks out to ice cream, too?
The sock that looks much further along is Nova's Trekking travel sock. Mine is a feather and fan sock in KnitPicks Sock Memories. So far, I'm loving the spring-like colors, but witholding judgement on the yarn itself. We shall see . . .
But not tonight. I came home post-call, stayed awake for, oh, about an hour before deciding I needed a 2 hour nap. And now I just woke up, 7 hours later, just in time to go back to bed. I was going to knit this afternoon . . . but no luck. You will have to hold your breaths for the scintillating tales of
Rowena's ruffles
, my lifelong struggles with zippers, and all other knitting news. Apparently I need 14 hours of sleep today.
Labels: Blogosphere, Socks