My Ring, And Other Delightful Details
How can we know the dancer from the dance?
-W.B. Yeats
Thank you all for the delightful comments. You'll be pleased to know that my (affianced) Beau has read them all, too. He's a little awed by the sheer number, but happy to know that you're all rooting for his collection of handknits. More on that later. In the meantime . . . I know you want more photos.
It is suprisingly hard to take photographs of diamonds.
Yes, my life is really just that hard these days.
The only nighttime photos that came out in any way were the black and white ones, but in the daylight I think we managed to capture a fraction of how gorgeous this ring is.
My sister (and maid-of-honor-to-be) was a little concerned from the black-and-white photos that it might have been platinum. Never fear. I have a strong preference for yellow gold, and the beau has been aware of that for some time. First the details, such as I know them, about the ring:
Apparently it is something of an overwhelming experience to shop for an engagement ring. The beau was overheard (by the mutual friend he was smart enough to take with him) to say, "Gold. Shiny. There are so many!" in somewhat frantic tones. So with a little redirection and calming, Jen (who does knit, by the way) led him down a road towards pretty rings. I have it on good authority that he chose among many final contenders and picked this one by himself. Certainly, he had no help from me except that it should be yellow gold. The setting is a cathedral setting and the side diamonds are apparently channel cut. The things you learn. Personally, I just focus on how wonderfully it catches the light in all directions.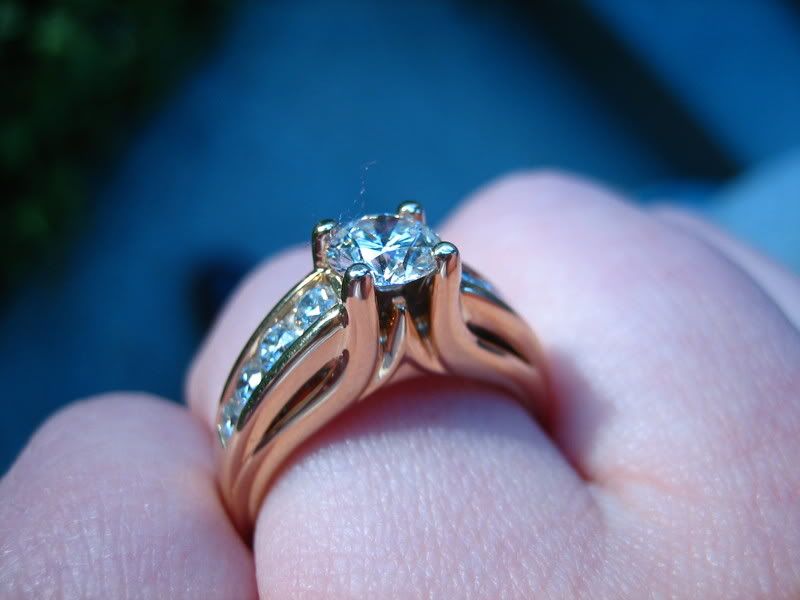 Apparently, it is even more overwhelming to propose to your girlfriend. So I'm told. But he did a wonderful job, and I was only a little bit suspicious by the constellation of events preceding.
I had a hint of suspicion
when Jen (yes, the same Jen) dragged me out after work on Friday to get our nails done. Saturday the beau and I were both on call. And Sunday morning, in the haze of post-call rounds, the beau changed plans. We were going out to dinner.
I got a little more suspcious.
Then we went to The Fishmarket, where we had our first date. It's just not a post-call kind of restaurant, if you know what I mean. I was really beginning to suspect. And then we ended up on the beach on Coronado Island.
Really suspicious.
And sure enough . . .
We walked down towards the water. And the beau got down on one knee, gave me my ring, and proposed. - I don't know what to tell you that I don't tell you everyday, but I love you and want you to be my wife. Will you marry me? - Obviously, I said yes.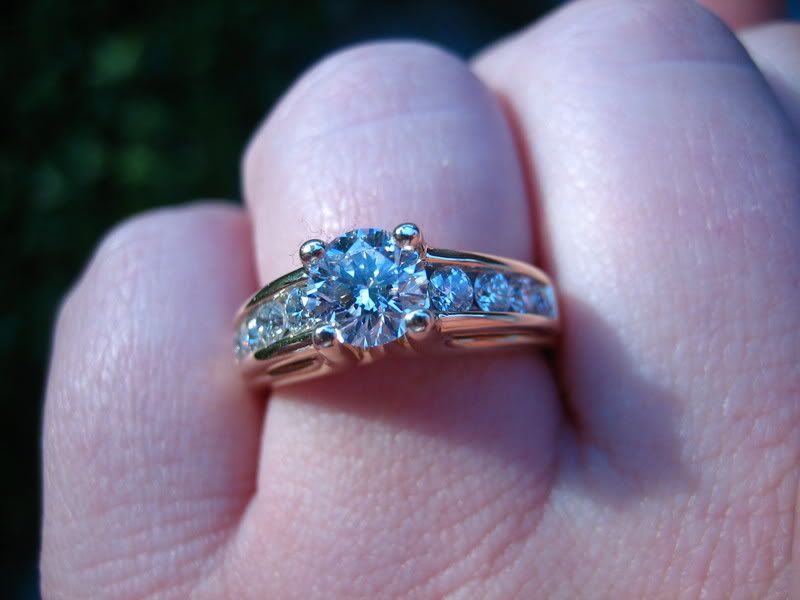 Civil marriage in July before he goes away for flight surgery training, then the whole church wedding in April when he's back. Fortunately, my mom, my sister, and the wonderful flitgirl are ready. In the same phone call in which I told my sister that I was engaged, she informed me that she had the bridesmaids' dresses picked out. How did I feel about pink? Sure enough, there were photos in my email 12 hours later.
And speaking of clothing, I was wearing my favorite handknit sweater when he proposed. And the now-affianced beau? Let's just say that his sock drawer is a little fuller. I had my suspicions, you know . . . Details on that tweedy goodness to follow.
Labels: Life