Rain, Rain, Go Away
It is the artist's business to create sunshine when the sun fails.
-Romain Rolland
My parents must be the best of luck. In the middle of two weeks of rain, (relative) chilliness, and general winterness, my parents came from the stormy northeast and got the two nicest San Diego days we've had in weeks. Absolutely beautiful. Warm. Sunny. Everything San Diego is supposed to be. And as soon as they left? More rain. Not that I'm complaining - I'd rather have off in the sun and work in the rain.
In between all the catching up, we
did some touristy stuff
showed the sock a good time
.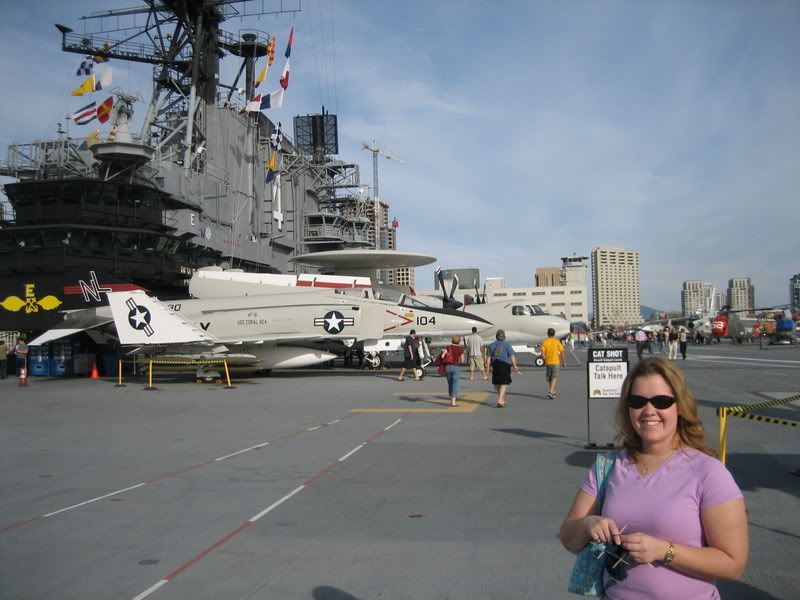 Knitting on the
USS Midway
:
(and some fun facts)
Daily food requirements:
Meals served: 13,000
Bread: 1,000 loaves
Pies for one serving each: 650
Beef for one large serving each: 4,250 lbs.
Vegetables: 5,000 lbs.
Meat: 4,500 lbs.
Dry provisions: 20,000 lbs.
Potatoes: 3,000 lbs.
Yum!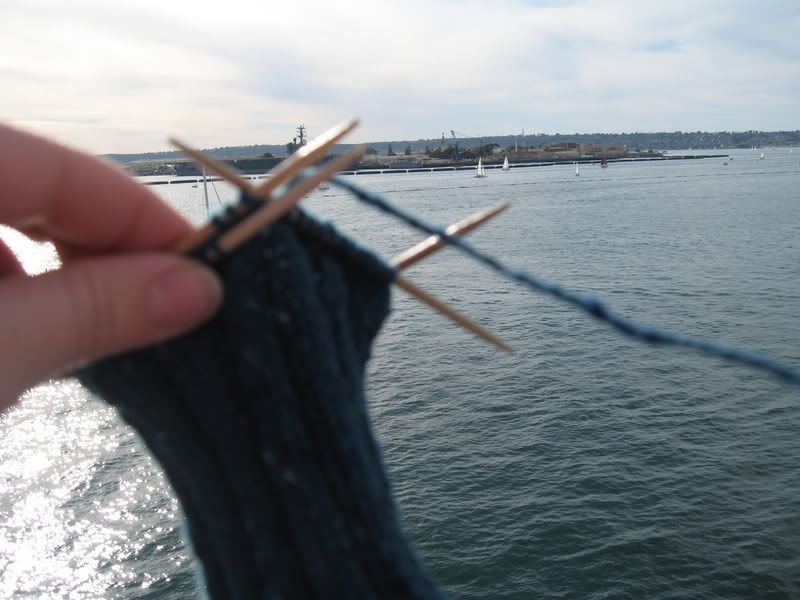 Here's the sock enjoying the view off the Midway (towards NAS North Island - can you see the active carrier the USS Nimitz in the distance?)
Crew: 4,500
Monthly payroll: $1.2 million
Telephones: 1,500
Compartments: 2,000
Electric motors: more than 2,000
Miles of piping: 200
Miles of copper conductor: 3,000
Miles of fire hose: 4.5
Fresh water produced: 240,000 gallons daily
And . . . 18 hospital beds, 1 ICU bed, 2 ORs, and an X-ray department. Not to mention the fun of twice-daily
sick call
.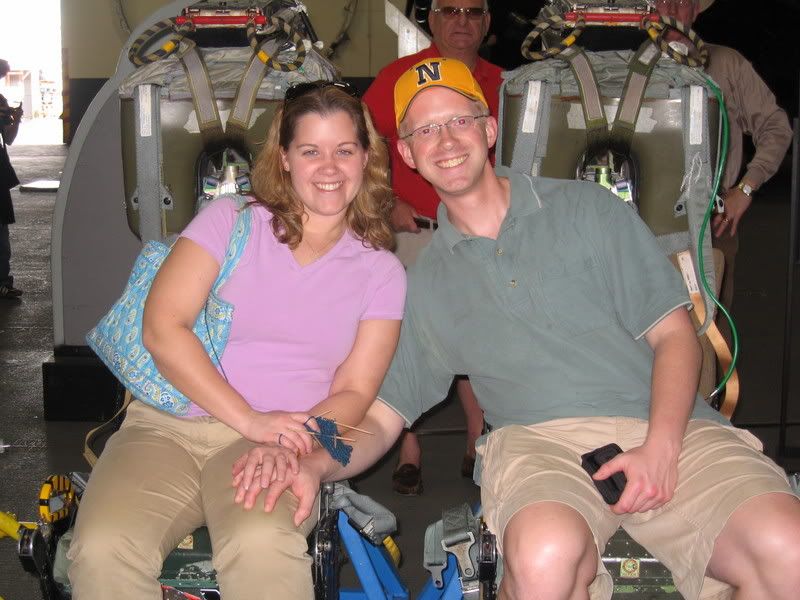 The sock (and the beau) even enjoyed experiencing the ejection seats for themselves. Something tells me that my Brittany Birch needles wouldn't do so well at the excessive G-forces of being ejected from a fighter jet . . . Oh, and the sock? The
tweedy goodness
of the Plain Winter Socks for the Knitting Vintage Socks Knitalong. Worsted weight - flying by! (Pun intended.)
Labels: Knitalongs, Life, Socks