Giddy-up!
Rodeo cowboys usually keep goin' until they're crippled-
injured by animals, run out of money for entry fees
and traveling expenses, quit or get killed in the arena.
-Chris LeDoux
Is your knitting scattered all over two apartments, three purses, and your locker at work? Do you feel like you've been in a haze where you can't tell a ruffle from a cable, a lace lattice from a beaded rib? Have I got a solution for you!
WIP Roundup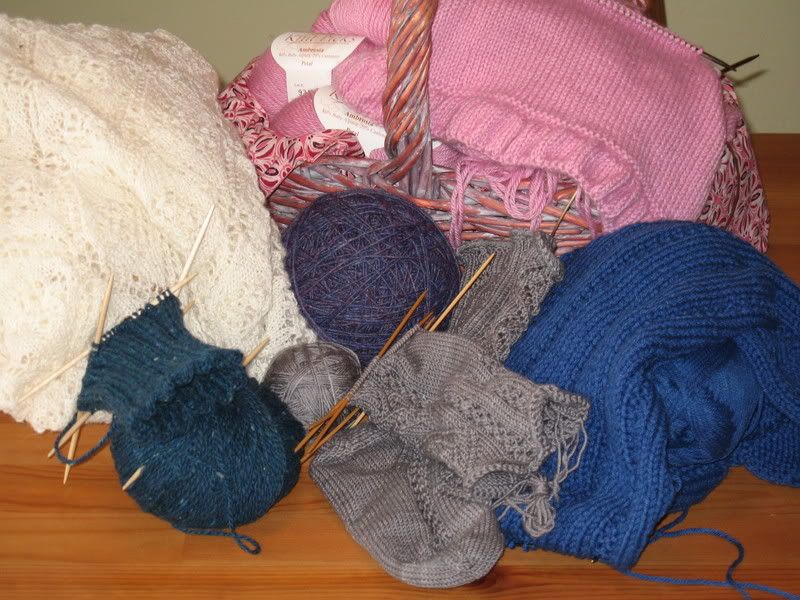 Clockwise from top left: The Chuppah, Rowena, The Humbug Pillow, The New England Socks, a ball of yarn meant to be Dalarna socks, and Plain Winter Socks.
The beauty of the UFO Resurrection (and yes, The New England Socks seem to be in this photo as a Work in Progress, doesn't it?) is that all those other projects? They don't count. Of the above, I can only really claim to be making progress on The Chuppah and the Plain Winter Socks, but Rowena gets a few rows when I'm on the phone, and the Humbug Pillow when I'm reading email. Overall, quite manageable. Quite.
If only I didn't want to drop it all and knit
the new Interweave Knits
from cover to cover . . .
Labels: Rowena, Socks, The Chuppah