New Year, New Closet
Property rights serve human values.

They are recognized to that end, and are limited by it.
-Joseph Weintraub
Lately I've been doing more than just knitting; I've also been doing some closet cleaning. (Yes my life can be just that exciting! The beau is out of town for the week and I'm working nights. There are only so many options for entertainment.) I've realized that I only need about half the civilian clothes that I have; now that I've been through the seasonal swing in San Diego - if I haven't worn it yet, I won't. In the cleaning, I've also found some knits that just don't have a place in my closet anymore. Before consigning handknits to the vagaries of Goodwill, I thought I'd see if any of you have an interest.
First up, the felted tote on your left. This is about the size of a laptop case, maybe a little larger, and made of felted Lamb's Pride Bulky. There's a water bottle pocket on the outside and the flower decorations you see. The pattern, I believe, was in one of the Knit It! magazine issues about four years ago. It was great fun to make, but I generally find that felted bags don't have enough structure for me to make it really useful. And if I'm not using it, you might as well.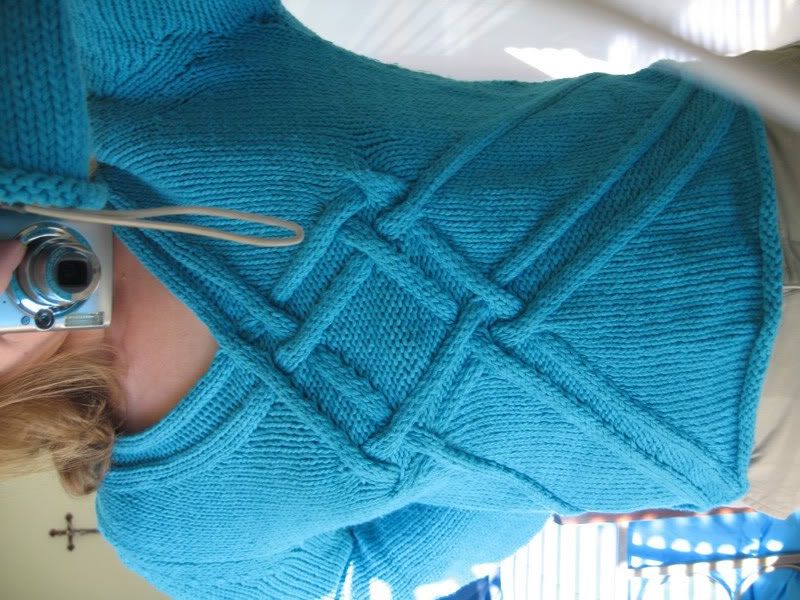 Next is the sweater that should be my favorite-ever sweater. It's 'my' color turquoise, cotton, and has lovely cabling. Did I mention that it's a Norah Gaughn pattern? Specifically, it's from a Cast On issue about three or so years ago and I used Reynolds Colors, an Aran weight cotton I had gotten at my first-ever trip to Webs on a fabulous sale. Like I said, it should be My Sweater. The problem? Gauge is an evil mistress. It's a bit too big. And in Aran weight cotton, that's obvious and somewhat uncomfortable. The bust size now is about 40" and, per the pattern, it has a slight a-line shape with gently belled sleeves. The length hits me about mid-hip and I'm 5'2", for some perspective, and the sleeves are about 1 1/2- 2" too long on me.
In general, the sweater is beautifully made with a lovely attention to details, and it also has the most beautiful set-in sleeves that I've ever made. (If I do say so myself. Aren't they nice? I love full fashioning in crisp cotton.)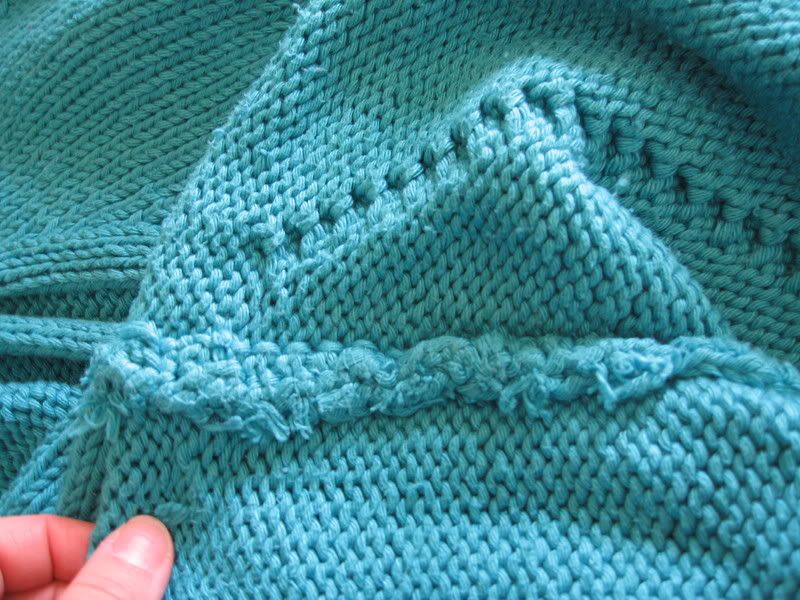 The problem, and the reason that I can't rip out the sweater and remake something else, is that I thought I'd try to make it fit. The cabling was all on the front, with stockinette sides, so I thought I could cut it and sew it together. It kind of worked, but not enough to really get it down to my size, and now it has side seams that are not the tidiest you've ever seen.
And last but not least is a summer tank up in Lion Brand Homespun. Simple pattern, single cable up the front. Size medium, should fit 34-38" bust. I made it up in a stash busting attempt and just never really wear it. So it you want to, please save yourself the trouble of knitting your own.
Interested? Leave a comment or email me with your mailing address and I'll send it off for you to use as you see fit. You'd be doing me a favor. If there is more than one person desiring any given item, I'll draw names sometime this weekend. Regular blogging will resume on schedule with a new finished object. I just wanted to give these handknits a chance at a new - knitting - home before they joined the general fray of donated clothing.