Back to Christmas Decorating
What we obtain too cheap, we esteem too lightly:

it is dearness only that gives everything it's value.

-Thomas Paine
And now, a return to our regularly scheduled Christmas decorating programming. My mom expressed concern that after all that work
decorating the beau's apartment
I wouldn't want to decorate my own. For the benefit of my mom (and dad, and grandmothers, and aunts, and any other relatives reading my blog), I thought I'd share some of my favorite touches.
On the right are several of my favorites (as well as proof that I'm being good and not opening until Christmas!) - see the cute snowman? A gift from my mom. See the Santa? A gift from my late grandfather. It used to walk across the floor singing "We Wish You a Merry Christmas" but now it just makes a funny noise. I am, however, rather sentimentally attached. I think I've had it since I was about 5 years old. And not related to Christmas, but potentially of interest to the knitters - see those cranberry crates? They hold yarn. I love it.
I'd like to highlight in particular the handmade decorations: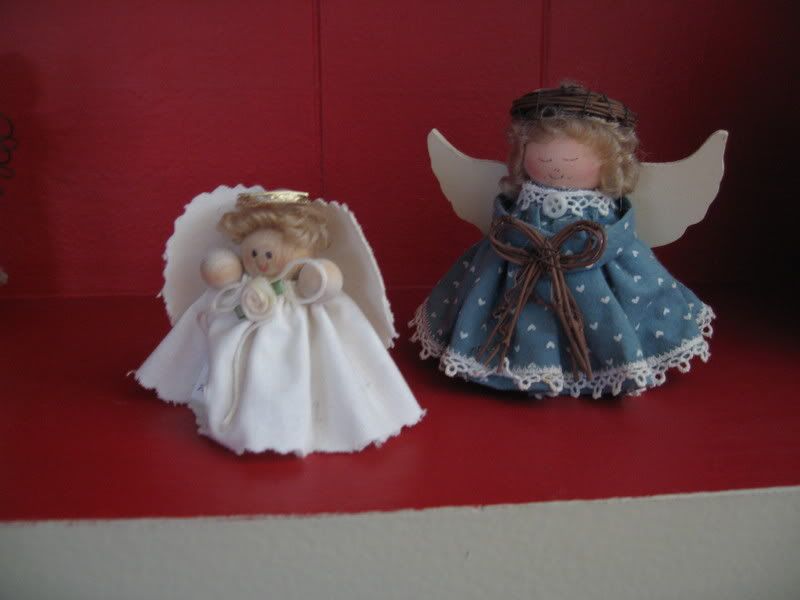 My grandmother made these angels for me. I think they're technically Christmas decorations, but I keep them up all year. Another fun knitting fact - my grandmom is a wonderful seamstress and knitter but she hadn't been doing much knitting for a number of years . . . until she started reading my blog (Hi, Grandmom!). It was the
Mason-Dixon Ballband Dishcloths
that did her in. And last I saw, she was making a whole bunch.
And if you needed proof that I really did decorate my entire apartment . . . don't forget the bathroom! This snowman was a gift from my uncle a couple of years ago.
With a family like mine, isn't it any wonder that I'm so into Christmas?
Have you guessed that I haven't been knitting much lately? I do have a couple of last-minute secret gifts on the needles, but even with the approaching deadlines I don't think I've knit a stitch in 3 days. Why is that you might ask? Well, aside from the obvious being on call . . . I've been
too busy celebrating
. Turns out they're going to keep me in San Diego for at least another two years to finish my Internal Medicine training . . . definitely good news.