A Sock Story
This is a revolution!
We have to offend somebody!
-John Adams' character in Sherman Edwards'
1776
Where have I been?
The Navy sent me to a conference in Bethesda, MD last week with approximately 24h notice that I was going, and no reliabe internet access. And now I'm back. And I just started Night Float. So don't be suprised if you see strange time-stamps on my posts and comments. Last night was crazy, but I have it on good authority that occasionally it slows down for at least 20 minutes. And now, back to our regularly scheduled blogging with my better-late-than-never Sock Story, as suggested by
Lolly
.
When did you start making socks?
I started making socks in December 2001, about a year after I'd started knitting. I had spent an entire year making garter stitch scarves and only recently decided to branch out. I made a pair of mittens, and then thought I'd make
my dad
some socks for Christmas.
Did you teach yourself or were you taught by a friend or relative? or in a class?
I taught myself. Like almost everything else in knitting. Google is my friend.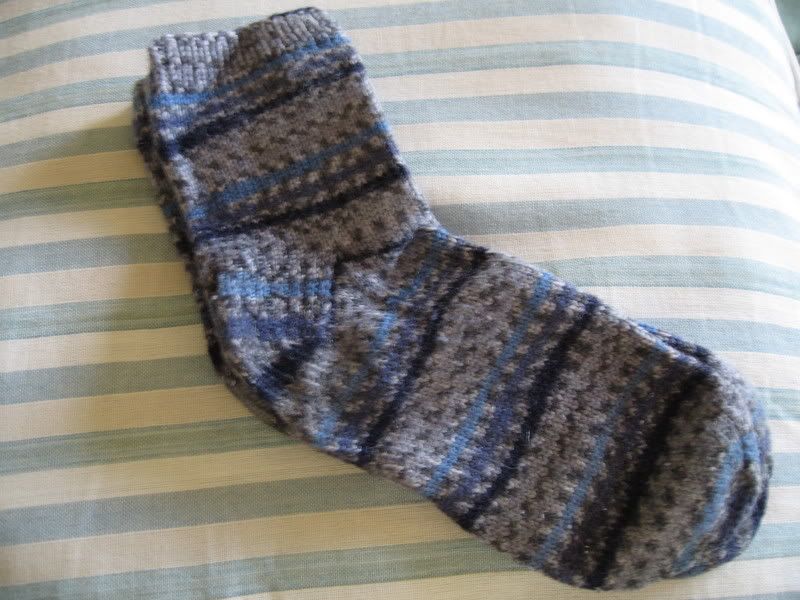 What was your first pair? How have they "held up" over time?
There is not a 1:1 correspondence between my first started pair and my first finished pair.
My first started pair is to the right (now finished, obviously). Regia jacquard on US2s. I quickly realized that I should not learn sock construction on fingering weight yarn and switched to a basic ribbed pair in Wool-Ease. My excuse: I was reading the Knitlist at the time. People do actually make socks out of Wool-Ease. So why are they not pictured? They fell apart. A while ago.
What would you have done differently?


Not use Wool-Ease. It doesn't hold up.



What yarns have you particularly enjoyed? What yarns

haven't

I particularly enjoyed?

Do you like to crochet your socks? Or knit them on DPNs, 2 circulars, or using the Magic Loop method?
I do not crochet. Ever. DPNS all the way. I like to channel Laura Ingalls Wilder.
Which kind of heel do you prefer? (flap? or short-row?)
Colleen
and I are in intense (but friendly) disagreement about this. I love everything about a heel flap. Heel stitch, or eye of partridge if I want to be adventurous; turning; gussets; and most of all how they fit my feet.

How many pairs have you made?
98. Numbers 99, 100, 101, and 102 in progress.