Wee Tiny
Remember there's no such thing as a small act of kindness.
Every act creates a ripple with no logical end.
-Scott Adams
You may have seen undercurrents of the hottest new trend in knitting blogland - the Wee Tiny Swap. In between blogging about her adventures in knitting over at
Yarn Miracle, Emily
came up with a perfectly brilliant idea. No questionaires.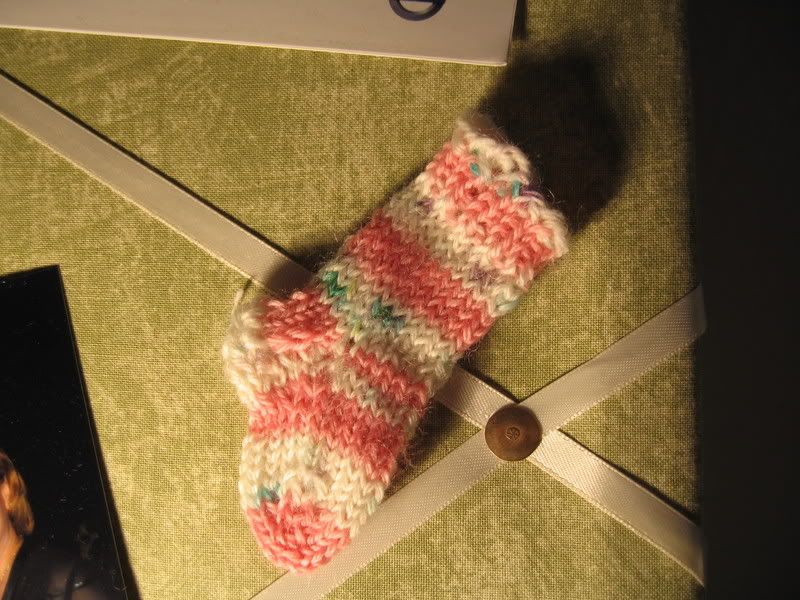 No months and months of delay. No large purchases or extravagant packages. No, this was a swap that could fit into an envelope. It cost a postage stamp. It used leftover sock yarn. And how fun it was! I was lucky enough to get a Wee Tiny Sock in the mail from
PJB Knit Paula
(there is a much much beter photo on her blog
here
; she apparently had some daylight recently). Even though my photo is poor, you can see it in it's new natural habitat, which is the bulletin board that lives above my desk. Just too cute!
Below you can see the Wee Tiny Sock I sent to a blogless swappee in Ohio. The leftover yarn details have been lost to the mysteries of time, but I do remember making a pair of socks for one of best friends, probably about 5 or 6 years ago.
So, who's going to have the next Wee Tiny Swap? This one was too fun!
Labels: Blogosphere, Socks