The Man Will Have Socks
A woman might as well propose; her husband will claim she did.
-Edgar Watson Howe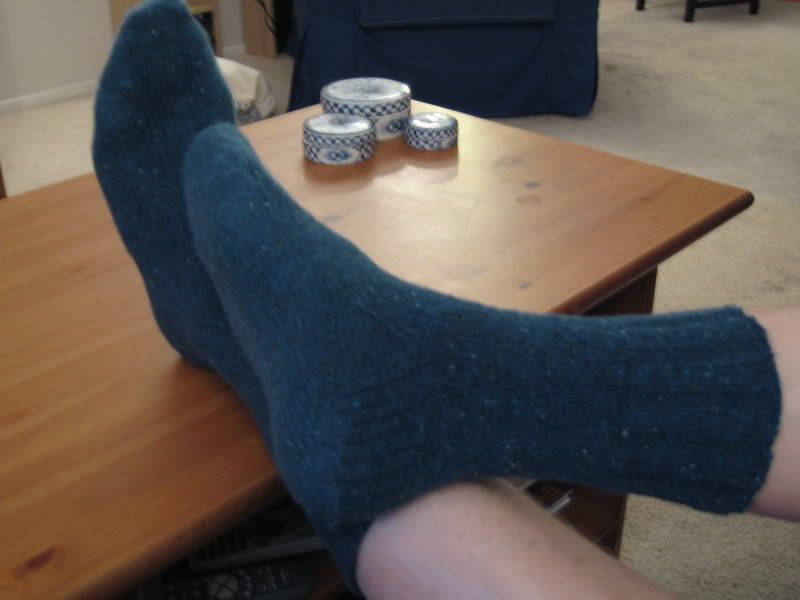 Finally, all the
very
vocal
advocates
for handknit socks for the now-affianced beau (he thanks you, by the way) shall be gratified. May I present
Engagement Socks
Pattern:
Gentleman's Plain Winter Socks from Nancy Bush's
Knitting Vintage Socks
Yarn:
Kathmandu Aran (silk, merino, cashmere)
Needles:
US 3 dpns (hey - big feet!)
Notes:
Obviously, I adjusted the pattern for gauge. I used an Aran weight on size 3s instead of fingering weight, so I used 60 sts instead of 80. They fit perfectly, and used just about 150g for his size 12 feet. They were a pretty quick knit, and mostly knit in front of the beau without him suspecting a thing.
Best Thing About This Project:
You know the beau was always asking when I was going to knit him socks. I always answered that he'd have socks when I had a ring. Well, the best thing about these socks was
getting to give them to him
!