A Very Knitty Holiday . . . Continued
Every day is a holiday;
Every meal is a feast.
-Tim Lebling
If you are lucky, this will be the last of the Christmas posts. No guarantees, but I think I'm nearing the end. In addition to the knitted gifts given, there were a number of knitty gifts received. It's like people think I like to knit, or something! Wonder where they got that idea . . .

The flitgirl
sent me
Jordana Paige's Knitter's Satchel
. This is one classy knitting bag.
As she noted, it looks like an old-fashioned doctor's bag, and sure is a big step up from the backpack I usually carry.
It's nice-looking enough to take anywhere, and look how huge the inside is! On Christmas I was carrying a whole bag of cookies, a scarf in progress, and all the wallet, keys, pagers, etc. that a girl needs, and there was still plenty of room. Do you see the nice knitterly features inside? The loop to hold your yarn and keep it from rolling all over the floor? The loops to hold spare needles? The detachable notions case? Plus, the bottom has little metal feet on it, perfect for putting next to your chair at the coffee shop.
In case I really do need to carry around more than will fit there, my sister and brother sent me this great LL Bean tote. Can you believe I lived in New England for 8 years without one?
Peaking out of the tote is a gift from my uncle and his lovely lady. She happens to be a librarian, so she's able to put those nice covers on the dust jackets. You know the kind. It'll keep this book in
much
better shape than most of the other books that get thrown in the aforementioned knitting bags . . . The book is
Knit 2 Together
, and it has some fabulous patterns. I must say that I'm pretty impressed two
muggle
non-knitting relatives were able to get a knitting book that I a) wanted and b) didn't already have. Have you seen the Rowena cardigan? I think I may have finally found a sweater my sister would love.
And, in the "I love handmade gifts" category, my grandmom sent me these towels for the kitchen. How cute are they? Just in time for me to be taking down the
excessive
many
festive Christmas dish towels!
To prove that I am actually doing some knitting, here's a scarf I've been working on this week: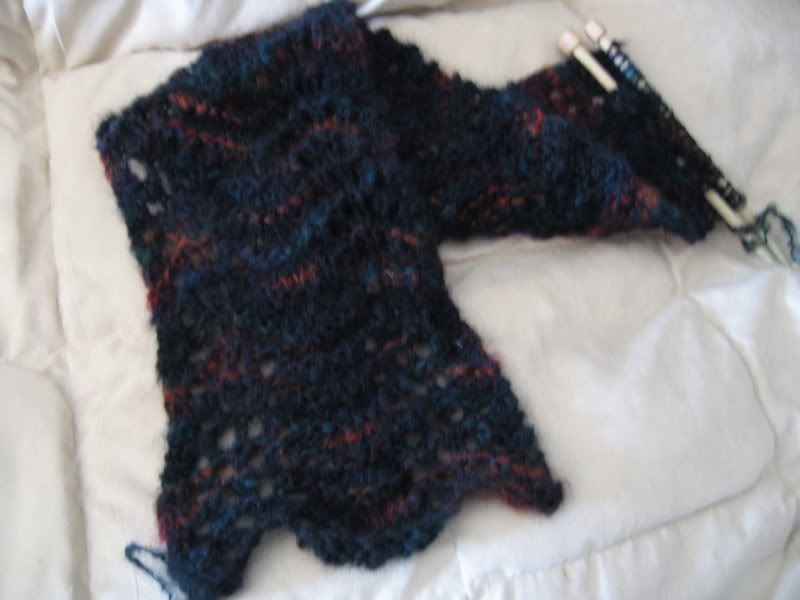 It's a simple Feather and Fan variation (free pattern
here
) in the New Zealand mohair that
Meg
sent me as some contest winnings
back in August
. A dear friend of mine suffered a loss this Christmas, and I was wanting to send her a tangible hug, something since I couldn't be there in person. Just as soon as the thought entered my head, I saw this yarn sitting on top of my basket of "nice" yarn. (Reason 462 to keep your yarn where you can see it.) It's soft, warm, and, while the colors are darker than I would usually wear, especially in San Diego, they are exactly perfect for this friend. Interspersed among the black, purple, and dark green are these stitches of a bright red and blue. Just a little hope in the darkness, I think. Sometimes these things just work out, from a knitting perspective.