Baby Bear
Bears live in all parts of the world except Antarctica, Africa, and Australia.
-Fun Fact
Can I get three cheers for being on leave? Hip, Hip, Hooray! The Chuppah is nicely wrapped up in a protective covering and packed - in my carry-on - and we are ready to go. Since we're having just so much fun today, let's look at this delightful pattern I just finished. Because I'm spontaneous. Just ask me.
Baby Bobbi Bear
Pattern:
Baby Bobbi Bear by Blue Sky Alpacas (Note: This is the pattern that uses worsted weight. The Bobbi Bear pattern uses Bulky.)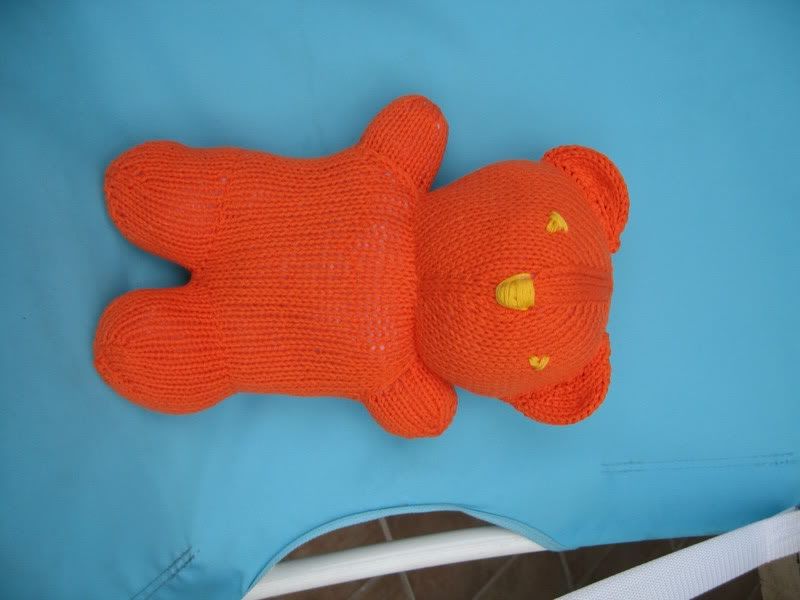 Yarn:
As much as I would love to use the delicious yarns called for in the pattern, I used stashed Cotton Ease in Orangeade for the MC and Pineapple for the CC embroidery. I stuffed it with plain ol' fiberfill.
Notes:
This pattern is just delightful. Fun, easy, and well-designed and intelligent. Plus, it's fast and fun. Do note that it's the finishing details that make the project. Duplicate stitching around the neck was particularly important.
Best Thing About This Project:
It's a bear! It's a toy! It's a stashbuster!
And now, to go put it into Ravelry. Because looking through other people's projects is the best part. And I'm tired of trying to put all my yarn in!
Labels: Babies