Add Another to the Pile
There are two kinds of people; those who finish what they start, and so on.
-Robert Byrne
Just as I've been making such good progress on
my pile of UFOs
(yet again, three cheers for the
UFO Resurrection
!), here I go, adding another one to the pile. I went and finished the knitting for the very cool Humbug Pillow from Debbie Bliss' Home book. It kept me occupied for months (see how big it is?), but in a peripheral way. It was my easy email-reading knitting - just a big rectangle with a simple garter rib pattern. And in order to make this rectangle into its final pyramidal shape, all I need to do with this rectangle is sew two seams. Sounds easy-peasy, right? I'm sure it is. The hold-up is that I also need to construct the inside pillow if I have any hope of this ever having any structure whatsoever. And I do. Have hope, that is. But the inside pillow needs at least two (relatively) straight lines sewn on cloth before I can stuff it. Have the cloth, even have the stuffing. What I haven't figured out how to do is make a bobbin on my sewing machine. The time is definitely coming. Soon-ish. But not before the end of March soon-ish. In the meantime? Here's one more for the UFO pile. While we stick it there, we can at least admire the delightful cottony goodness of the garter rib, can we not?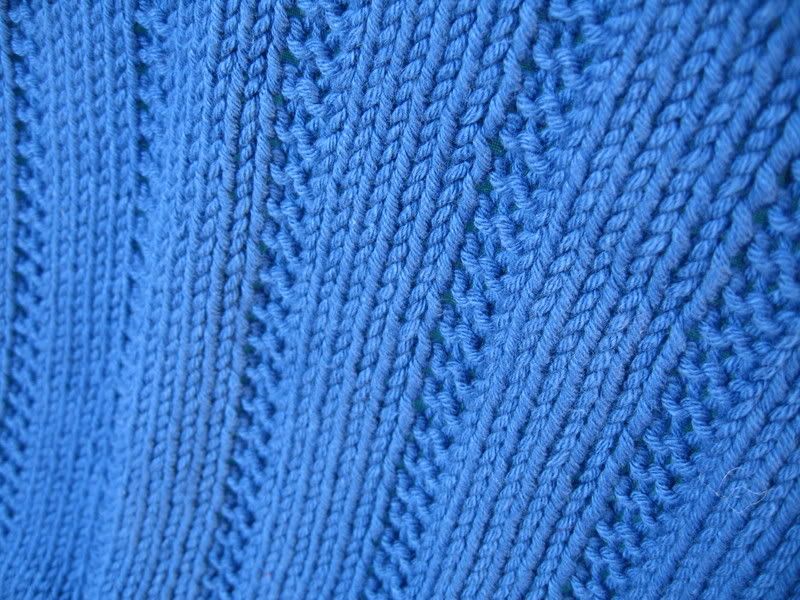 Thanks for all the great entries to
the contest
. I didn't put an ending on it, but it looks like I'll have some time on Friday to sift through the entries and compile and list of all the great patterns and suggestions . . . and pick some winners. So muster your best manly sock suggestions and head on over.
Labels: Finishing, Knitalongs