A Little Sunshine
Babies are such a nice way to start people.
-Don Herold
Instead of adding yet another one to my UFO pile, I buckled down and tackled the challenging finishing on this baby sweater. And by challenging, I mean I had to find the absolute cutest possible button to go with my bright orange sweater cape.
Think I succeeded?


Baby Hooded Jacket
Pattern: Debbie Bliss' Simply Baby
Yarn: Cotton-Ease (the vintage, or "old" kind) in something they didn't actually call orange but very obviously is
Needles: US 7s . . . I think. Who needs gauge in a baby sweater?
Notes: Well, see below for thoughts on finishing, and my very particular ideas of just how much finishing a baby garment should require. Otherwise, I also had to tighten up the buttonhole a little to fit my smaller button. But it was a fast and fun pattern. Just make it in fewer pieces, that's all. Oh, and this was entirely made from stash - including the button!
Best Thing About This Project: To come, obviously. The best thing about baby knits is the baby.

Also in finishing news, I wised up after this episode and started reading ahead in the directions. Instead of binding off and picking up stitches for the hood, I just increased. Instead of doing a three-needle bind-off for the hood, I grafted the top together. Looks better, and was probably way faster.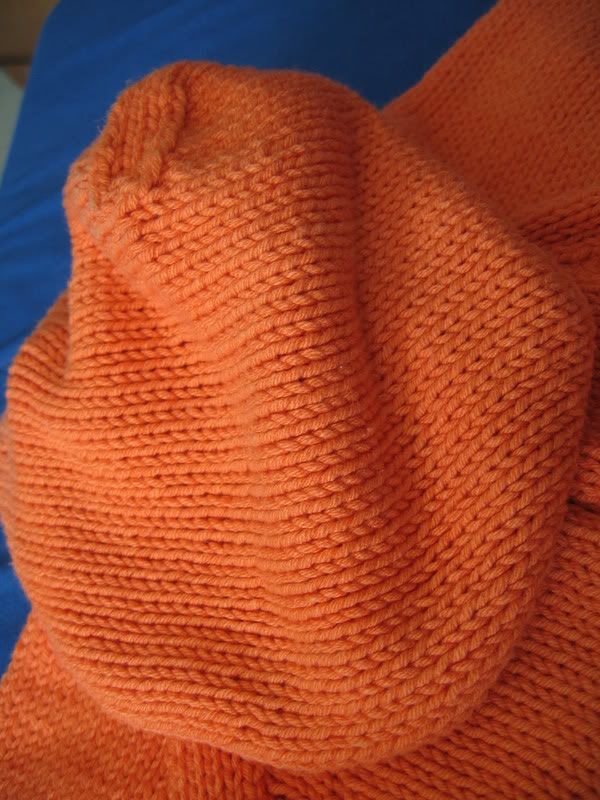 And, no, I haven't forgotten about the manly socks. I was trying to distract you by cute baby knits while I'm in recovery mode after the ICU. It's coming.