Loving the Frog Pond
Happiness is neither virtue nor pleasure nor this thing nor that
but simply growth. We are happy when we are growing.
-William Butler Yeats
There are good things about a nice weekend jaunt to the frog pond. To keep up with the UFO Resurrection (I've now completed all 12 months!) and work on that Clean Slate in 2008, a couple of projects got re-evaluated. My Lizard Ridge afghan turned into a pillow, and a pile of Cotton Kureyon.
After I saw
this amazing Lizard Ridge
, I realized that I wanted to make one more like that and less like these bright colors.
Prosperous Plum is also no more.
And this is more than just a little trip to the frog pond in this case. You may have realized that lately I've been knitting mittens, fair isle hats, and planning Norwegian ski sweaters. Yup, I've pretty much given up on knitting summer things for San Diego. I don't enjoy knitting them, I never wear them. I'm just going to knit what I want to knit and wait to move to a colder climate. Or send them to my sister-in-law in Calgary. (Hi!) She may get more knits than she bargained for. But you can never have too many mittens, can you?
Speaking of knitting what I want to knit, look what I finally got:
The yarn for the Dale of Norway Salt Lake City Sweater.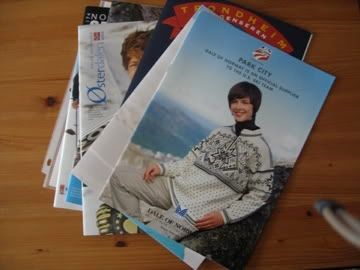 And patterns for many more. After I make Salt Lake City for my husband, I'm going to make Park City for me. Nothing like a little ambition, right?
Labels: Dales, Knitalongs, Stash, Yarn Shopping