The First of Many
Marriage is the alliance of two people, one of whom
never remembers birthdays and the other never forgets them.
-Ogden Nash
Do you want to feel sorry for my (afianced) beau? My birthday last year fell approximately three weeks after our first date. Quite a lot of pressure for a new love - apparently it took him more than an hour to pick out a card! And then I got lucky . . . months and months and months to prepare for his birthday. Want to feel even more sorry for him? He's on call on his birthday. (And it looks like I'll be on call in the MICU on mine.) It means a girl has to be a little creative in planning birthday fun.
Want to stop feeling sorry for my beau? Not only did he get the video iPod he wanted so much (he goes to Best Buy like I go to yarn shops), he also gets a pair of handknit socks. There are advantages to a birthday that falls after our relationship is
so much more established
. . .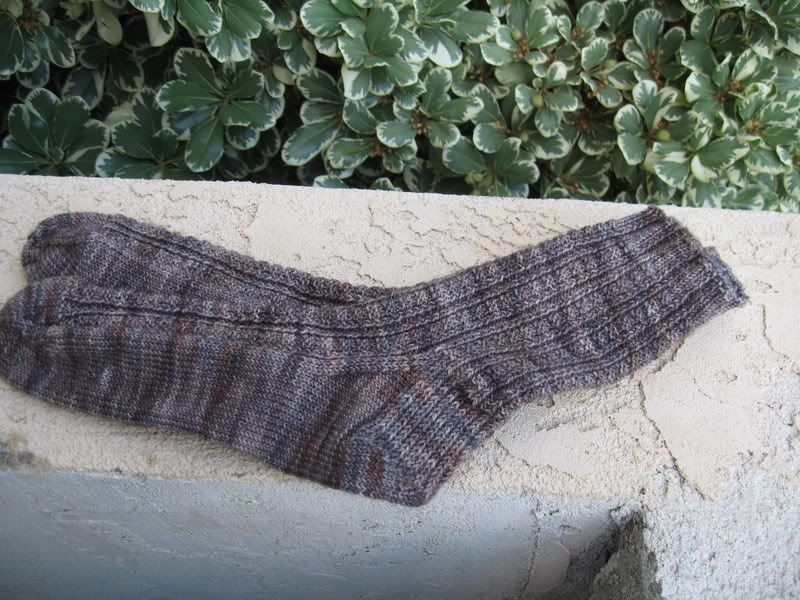 Retro Rib Socks
Pattern:
Interweave Knits and Favorite Socks
Yarn:
Koigu in Gray Mix
Needles:
my favorites - US 1
Brittany Birch
5" dpns
Notes:
The only mod I made was to add an extra 8 stitch repeat. The pattern claims that they are stretchy - and they are - but not quite stretchy enough for a US12 (men's). Also, don't they look great in the varigated yarn?
Best Thing About This Project:
Do you even have to ask?
Happy Birthday, Beau! Here's to the first of many together.